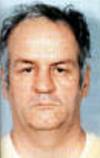 Arthur John Shawcross, also known as the Genesee River Killer, is responsible for a brutal wave of slayings discovered between 1988 and 1990 in our downtown area. He preyed primarily upon prostitutes from Lyell Ave, raping and mutilating his victims before and after dumping their bodies in out of the way locations throughout the city. He had a penchant for securing their bodies by way of a bungee cord to the passenger seat of his mistress's car and driving them about town before permanently ridding himself of their presence1. He is currently serving time at Sullivan Correctional Facility for ten counts of murder in the second degree, each carrying a sentence of 25 years to life.
250 years will have passed before he is eligible for a parole hearing.
The greatest tragedy of this story is how easily so many of the lives lost to Shawcross could have been saved. Criminal activity in his youth escalated from burglary and arson, eventually to convictions of manslaughter and pedophilia2. Displaying model prisoner behavior, he was paroled early and the police attempted to relocate him to Binghamton. However, following a public backlash against having a convicted child rapist and murderer settled in their community3, the police modified access to his records so even other departments would have difficulty obtaining information on the whereabouts of Shawcross. He was silently moved to Rochester. When the killings in Rochester began, police checked their records for known predators and found none.
Sensationalist publications, web sites, and media productions attribute many details to Shawcross and his slayings that are inconsistent with known facts. Arthur Shawcross is a pathological liar who desperately tried to cultivate an appearance of insanity in order to spare himself. He led psychologists involved in his trial in any direction he believed might reinforce the idea he was insane and not responsible for his actions. From what Shawcross revealed during these sessions stem most of the sensationalist rumors surrounding the case. There is no evidence of him cannibalizing any of his victims. There is no support for his wild stories of heroic actions and tragedy in Vietnam. There is no evidence of psychological trauma stemming from abuse as a child. However, it does appear likely that Shawcross was affected by
Organic Brain Disorders that may have impaired his judgment.
Shawcross' legacy in Rochester includes rumors about where he stayed while he lived here: two possibilities are the Hotel Cadillac and Normandie Brownstone.
According to the
Democrat and Chronicle, Arthur Shawcross died 11/10 at the Albany Medical Center. No cause was given.
1The sites he used to dump the bodies are noteworthy for having also been common rendezvous locations for meetings with his mistress. That he was careful to obscure view of his victim's bodies from above suggested to profilers that they were dealing with someone with a military background. He was finally apprehended after being spotted masturbating near a body at Salmon Creek. He claimed he was urinating into a Pepsi bottle.
2He viciously murdered both a young boy and girl in Watertown, New York. He admitted to having raped the young girl prior to her murder. The boy's body was decayed to such an extent that evidence of sexual trauma was impossible for prosecutors to gather and confront Shawcross with.
3Go figure.