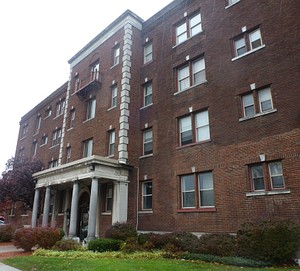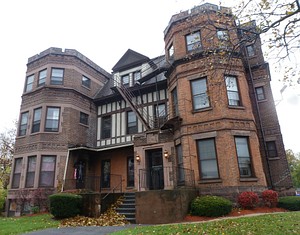 241 Alexander Street. Appears to be part of the Normandie complex, or at least owned by the same people.
Normandie Brownstone is an apartment complex in the Alexander Neighborhood. It is within easy walking distance of Park Avenue, the East End, and Monroe Village.
Comments:
Note: You must be logged in to add comments
---
2007-01-29 20:54:41 Deciding to live here was quite possibly the biggest mistake I've ever made. It started with ants all over my apartment in the summer time. There was also the constant gurgling noises that the pipes made. There was the brown sludge that came out of the pipes and filled my bathtub on one very lucky occasion. There was the fact that my fridge stopped working the last two weeks that I lived there. There were bats in the hallway on two separate occasions. The washer and dryers that are in the basement don't exactly work. There was the mouse that lived under my sink for about a month (the maintenance guy did everything he could to kill it, but this mouse just wouldn't die). It took them over a month to get my deposit back to me, and when I cashed the check, it bounced. But most importantly, there were the squirrels. In November of 2005, there was a squirrel infestation and my apartment was one of the lucky three that were affected. The apartment was destroyed along with several of my own belongings. —FattyFatFat
---
2007-01-29 20:57:51 Friends don't let friends move into the Normandie Brownstone. —FattyFatFat
---
2007-01-30 09:22:02 I used to live right near this apartment and I have seen people who didn't live there park in the parking lot—with flashers on—to run up and pick up someone who lived there only to come down (within 15 minutes) to find their car as been towed. (This was 3 years ago.) —BadFish
---
2007-01-30 23:21:04 Had a friend who lived there until late last summer. I can attest to the bats problem and the brutal parking enforcement policy. One redeeming aspect was late-night dinner and drinks on the roof. An aside: If I'm not mistaken, Arthur Shawcross lived there until shortly before his arrest. —JohnMoriello
---
2007-03-25 15:17:03 Though not the most incompetently run of the downtown rochester apartment buildings, they are up there. The brownstone building is a particularly shady mess, with bats, mice, ants, and a spectacular array of drug-users. The grounds and parking lot are rather shabby, but despite that I have never been subject to or seen any other cars subject to break in (which is more than I could say for the East End Garage around the corner where I was broken into twice in one month). There are some genuinely nice apartments in the building for a steal, particularly the one I got on the front of the building, but you've got to put up with a lot. The staff tends to be unresponsive and to sometimes not show up for scheduled appointments. I have to admit that the staff is far and away better at doing their jobs than the staff at East Ave Commons around the corner, but thats really not saying much. —NemyhLovecraft
---
2007-08-09 13:53:40 After a year here, I've decided that: Sure there are bats and ants. Sure the maintenance guys are incompetent. Sure the elevators don't work. Sure the parking is a nightmare and the gate is always busted. Sure they never fix the plumbing or clean anything or vacuum the hallways. Sure the washers and dryers don't work. Sure the outside door locks are always broken. Sure there are hookers, gang-bangers and crack-heads hanging around. Other than that, it's not so bad. —TomBolan
---
2008-07-14 14:40:24 I lived there with my girlfriend at the same time Shawcross was there. We were actually in the red building next to the brownstone in the back. The apartment wasn't bad, but it wasn't the Ritz neither. My landlady was nice and knew us quite well. I remember that she had hired Art to shovel the parking area and walkways. Occasionally, we both said hi to him when we had seen him shoveling. He seemed like a nice enough man, a little weird, but you had to be living in that area of the city. I remember my landlady telling us soon after Shawcross's arrest, that they had dinner together and he made a roast. It made her nervous and made her wonder, "who the roast had previously been"! —normandytenant319
---
2008-08-25 16:56:10 The Normandie Brownstone apartments are the absolute worst place to live in all of Rochester. The landlords are scumlords. It takes them forever to fix anything in the apartment, and when they do finally show up they have no idea what they are doing. They also will not give your security deposit back and they will screw you out of any money they possibly can. There is trash, mice and bugs all over in the building, and a very foul smell like something died. Parking is horrible-in the winter they don't evevn plow or shovel. The elevator is always broken as well. The people who go in and out of that building look like drug dealers and homeless people. I warn anyone out there to save yourself and not to move in, and please pass this on. —JoeSmith
---
2008-09-07 17:08:44 This is by far one of the worst places to live in all of Rochester. While the apartments aren't horrible in terms of looks, they are all inside of buildings that should have been condemned a long, long time ago. The ceilings are all paper thin which means any roof water or water from a leaking pipe above you is definitely coming through your ceiling and screwing up your day...actually more like screwing up your next month because that is how long it takes for things to get fixed, and that is considered a "quick fix".
Other problems experienced: Mice, RATS (like big New York City freakin sewer rats, about a foot long), ants, bats, leaky pipes, terrible water pressure, no hot water for days on end, garbage dumpsters over filling onto the ground for over a week with no cleanup (the people that live in houses behind the apartments outside the fence actually had to climb over the fence and clean it up themselves, because they couldn't stand the look and smell of it anymore), no snow removal in the winter, unsecured parking with security cameras that are just for show, locked key access doors that were always broken, no way for UPS/FedEx to get into building so you will never get packages, totally incompetent maintenance staff (except Eddie, he is the man), poor management and maintenance (this place wasn't THAT terrible until new management took over after the old owners sold out about a year ago, since then it has been like the projects), elevator never works, and when it does it is scary as hell (inspection was always overdue and clearly showed it was overdue by the sticker and date inside of the elevator itself), poor internet and cable reception because all the Coaxial cable in the walls is decades old and probably chewed to death by mice, and all the electrical outlets on the walls are tied into a SINGLE breaker (new building codes for apartments state that you have to have AT LEAST 2 to an apartment) which caused adding an air conditioner to blow the breaker several times. IF YOU ARE HEAVY INTO ELECTRONICS/COMPUTERS DO NOT LIVE HERE EVER!
The last straw was that my car got broken into and robbed for everything of value, and when I asked if I could have the security tapes from all the cameras they advertise in their "secure off-street parking" line, to find out if the person that robbed me lived in the apartments or not, they informed me that only 1 camera out of the many were working, and it was the one that points toward the STREET. I highly doubt there really was 1 working either, but I have no way to confirm it. I moved out a couple weeks later after this happened. I am now living in a town house for only a couple $100 more than I was paying for Normandie. Still waiting for security deposit back...they said 45 days, so we will see. The guy that handles the office phones and rent payment seems like a decent guy, but he is new (as of this date). —MoldySpore

---
2009-07-14 00:52:37 First off the back of the building (apt. 135-139) are beautiful, but they haven't cleaned them in 10 years, tendants do that themselves, because management are stupid and lazy and unorganized. secondly, we moved out because there are no 'dogs' allowed in the building as well as 100 noise complaints and yet they don't evict this rejects for this, we were great tendents are now it's been almost 90 days and no security deposit back!!! going to throw a lawsuit if we don't get it and anyone else who has not, join me because the more claims the better. This place is retarded and the new place we live in awesome and 100 million times better that than shithole of a buliding you call the normandie. The building is now in forclosure!! wow what a fucking surprise make your payment dumbasses. Oh i forgot they are using our security deposits and fucking us out of our money to pay there bills, get it right stupid assholes. When i first moved in there was rat shit all over the carpet, how fucking gross. loud ass disrespectful welfare rejects that live there and dont' respect people with jobs. It's called 'shut the fuck up' can I sleep please? Don't ever move there, especially if you work overnights. Even with earplugs, I could hear everything loud and clear. Worst place to live, don't move there. They need a real company to own that place and fix it up and it would be a lot better. That's all I have to say............... —hectorkelly
---
2009-07-15 01:28:55 Oh ya and one more thing.......there washers and dryers are shitty and LOUD!!! all day long and disrupted people! its called a laundry room...oh ya i forgot there all washers and dryers break, they never buy anything or update anything, cheap bastards......call the housing authority people...they don't know how to run an apartment building not even a hotel they horrible..... —hectorkelly
---
2009-07-21 08:40:07 HectorKelly, are you still putting together a lawsuit? I moved out of there at the end of May, and still don't have my security deposit back.
To anyone considering moving in to the Normandie, DON'T! I wish I had done more research before I moved in, because it's well known among the rental agents in the city that the Normandie is a slum. Cheap rent, and I luckily had one of the better apartments, but the building isn't taken care of, the water does go out for days, it's constantly noisy, and there's always trash around the parking lots and hallways. AND, the main security door for my unit was broken for about the first 4-5 months that I lived there, so anyone could get into the building... SO safe! —LC79

---
2009-11-16 13:03:59 I must say that since the foreclosure (which has been an absolute blessing) Things have gotten so much better. Rats are pretty much a thing of the past (haven't seen one in months)the security cameras work (I know this because my car got broken into and because of the cameras they were able to catch the guy!)All the lights in the parking lot are all on. We got a few new washers and driers, The clientel is getting much better (a lot of the crap people are or have been evicted) The maintenance staff can actually do repairs now that they are given the supplies to do them. The building itself is much cleaner (I see a guy everyday cleaning windows, picking up trash,vacuuming the hallways) All the elevators work. The woman who runs it has kept her word on things that are being changed, and because of her I resigned for another year. Yes it is an older buildeing like so many in Rochester are, however with this new company that has come in I see great changes all the time and it is becomming a great place to live!!! A lot of what you read on this thing are from the previous owner who was a slumlord. IT IS NOT LIKE THAT ANYMORE!!!! —JosieDavis
---
2010-07-15 13:40:02 The Normandie Apartments is great place to live. I have been here for awhile now and am shocked at these reviews. I looked at the dates and they are all pretty old so let me tell you whats new with the Normandie. The have new owners and all new people in the office. This is a good thing because the previous owners & staff were nightmares. The new manager has totally whipped that place into shape. All the shady people are gone, Flower City Pest Control was here until all the rats, mice and such were gone. I think they come around every now and than just to make sure they insects dont take over! I will admit that they do have water issues. It's nothing serious- it's just that they have to shut off the water so they can fix stuff around the building. All in all, the rent price is right, the neighborhood is safe and close to everything, my neigbor's are quiet and keep to themselves. Plus, my apartment has a great view, a huge closet, a fireplace and these cool built in shelf thing. I would reccommend the Normandie to my family and friends. —RyanRivera
---
2010-11-28 09:44:34 I have lived in the Normandie for a little over a year now and couldn't be happier! The office staff are extremely nice, and the quick repsonse i recieved from the apartment manager is the main reason i moved in. Whenever i have had a problem, they react quickly. There is a 24 hour maintanence line that also acts quickly.
The one downfall is that in the summer, power went out a few times and the maintanence line refused to help me in any way!!! Being an old building, you cant control things that happen, but the staff has been working to fix these problems. I have seen this apartment transform in the past year that i have resided here. Cleaning up not only the buildings, but people there too!
Bottom line is.... For the price you are paying-you WILL NOT find a better deal anywhere... especially in this great location! Park ave out the front.... In the center of East and Monroe ave bars/clubs... Festivals and parades in the backyard basically.
I can't speak to the past of this building, but I can tell you now... you will always see maintanence staff cleaning and working hard to keep this complex up. —HappyResident4

---
2011-06-06 12:50:40 Arthur Shawcross did not live at the Normandie. According to "Misbegotten Son," by Jack Olsen, Shawcross, in mid-October of 1987, moved to the apartment building at 241 Alexander Street, The Normandie is at 253 Alexander. Although, despite the difference in the numbers, the buildings are actually next door to each other and only seprated by a parking lot. That may be the cause of some of the confusion. Shawcross remained at 241 Alexander until he was arrested in 1990.
I lived at the Normandie in the Fall of 1988 (room 328). It was the most miserable place I ever lived in. The landlady or building super (whatever she was) was a short, bleached blond miserable fat bitch I can't say enough about, and all of it bad. The building manager though, a young guy about 30 or so, was cool though. My only window in Apt 328 looked out over the parking lot across to the building where Shawcross lived. My only memory of Shawcross is that of a fat middle-aged man who rode around on a bike. Unmistakable as I don't even recall kids riding around on bikes in that neighborhood.
---
2012-04-17 22:55:07 I live for some time in The Normandie. In summer have big ants all over in kitchen & mice in unit. Feel the same very foul smell like something died like. Very dirty in the building, carpets used for a century. All the electrical outlets on the walls are tied into a SINGLE breaker ... which caused all time to blow the breaker (same ModlySpore). I conclude ... you "have everything here". Others already listed the issues. —Spartacus
---
2012-10-23 17:01:43 I love reading a lot of these comments... I personally think for the most part they are exaggerated. I have lived here a little over a year on my friend's reccomendation (he has lived here 2 years now) I have hardly ever had any of these bad experiences that others seem to of had. I do remember that there was a bat on the 4th floor over the summer but that was due to an idiot leaving a fire escape door open. The entire staff here is really nice, helpful and any maintenance request I have ever put in have always been addressed pretty quick. Yes occasionally in the summer my breaker has to be reset but it has never really bothered me because someone has always come up quickly to reset it. I like living here a lot. You will not find anything better for the price. I would recommend this place and I have to my friends. —DonnaCanales