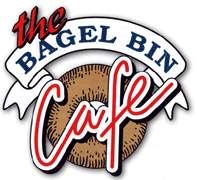 Bagel Bin Cafe offered many kinds of bagels which you could buy individually or in dozens. Toppings included a variety of cream cheeses, from plain cream cheese to the exotic honey toasted almond cream cheese. Bagel Bin Café served breakfast, salads, soups, lunch, deli sandwiches, beverages (hot and cold), and desserts.
Price ranged from $0.69 a bagel to $6.00 for deli sandwiches and salads.
They also offered catering.
According to news reports, Bagel Bin Cafe has sales tax liabilities totaling nearly $60,000 but has not been seized by the state. It closed in November 2011 and it is not known yet whether it will reopen again.
Awards
Bagel Bin was voted "Best Bagel Shop" in City Newspaper's 'Best Of' Awards in 2008 and 2010.12
DEC 16, 2008 TAX SEIZURE
Comments:
Note: You must be logged in to add comments
New York City style
bialy on the weekends. Nice atmosphere inside.

---
2006-09-18 14:29:34 I've only gone twice. The service was extremely slow both times. The coffee was really bad both times. The bagels themselves were OK but the time I had one with cream cheese, they put enough on it for 4 bagels. I had to scrape most of it off. Even though the place looks great with big windows and plenty of seating, I'll pass on future visits. —ZedOmega
---
2007-03-28 18:03:36 Bagel Bin is one of my favorite places to go for early lunches on the weekend. Their chicken salad sandwhiches are a must try - it's made with currants. I love that the sandwiches come with veggies and ranch dipping sauce. Their creamer selection is also phenomenal, they offer hazlenut and french vanilla options. —FattyFatFat
---
2007-12-28 16:20:07 I don't remember the bagels, I'm sure they were fine, but I did have a very yummy smoothie here. You can get gift certificates from
http://www.restaurant.com for cheap and that makes it worth having lunch here. —SaraChristine
---
2008-04-21 09:59:25 I dont care for Bagel Bin bagels, they are comparable to Lenders, which I feel are horrid.
The only good bagel is one from NYC, but in Rochester, Brownstein's is the closest we have.
NYC does one thing right, bagels. —MrRochester

---
2008-12-20 20:22:14 according to their website, they are re-opening on 12/23/08 @ 6am —MrPhil
---
2011-11-01 09:18:33 Rumors are swirling it is closed again. —BadFish
---
2011-11-02 09:33:34 According to the D&C they are officially closed again for sales tax liabilities. —dmarie
---
2011-12-04 09:23:53 Hi,
I was hoping you could help me. I live down the street on Bonnie Brae from Bagel Bin Cafe's former location at 2600 Elmwood Ave. A Birthday and Christmas package for my almost five year old son was mistakenly sent to Bagel Bin Cafe - it was received by Bagel Bin via UPS on November 17th around noon.
I know things must be very crazy for you since closing & hate to trouble you but I was hoping... someone may have the package. It is a present for my son from his father who lives far away. He was so excited to receive these presents & is understandably heartbroken. Can you please let me know if you have seen this package. I have spoken with UPS but they cannot help me any further & suggested I contact you directly.
Kind regards,
Stacey Guinan —miloslustig

---
2011-12-04 09:24:23 Milos Lustig pls anyone know about this package give us heads up it it for little boy that has been waiting to get it our contact number is 845 337 6724 or mmilhaus@hotmail.com thank you —miloslustig

---
ADMIN NOTE: MILOLUSTIG: Please be aware that this page is not monitored by Bagel Bin Cafe. I am sorry but we have no way to get a hold of them.