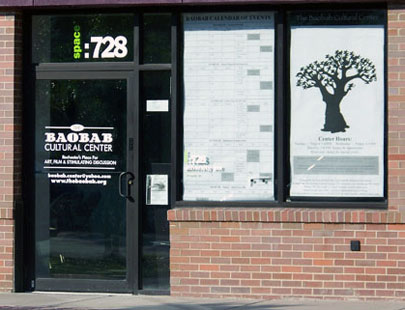 Location
728 University Avenue, Rochester NY, 14607
Hours (as of Aug. 2011)
Tuesday: Yoga at 5:45AM
Wednesday-Friday: 6:00PM to 9:00PM
Saturday: 3:00PM to 6:00PM
Sunday: By appointment
Phone
585 563 2145
Email
<baobab DOT center AT yahoo DOT com>
Website
http://www.TheBaobab.org
About
The Baobab Cultural Center, founded in 2005, is a not-for-profit organization for art, culture, and stimulating discussion rooted and routed in African cultures. Located on University Avenue in the Neighborhood of the Arts, their gallery space can be used for private meetings and events. Donations and membership are welcome. Membership costs $50 per trimester and includes participation in all programs listed on the website.
From the Website
"The Baobab tree is considered sacred in the tropical belt of Africa. People gather under its branches for social and political dialogue and for building social capital. It is also a place for celebrating important events. It commands honor and respect for the ancestors. It models resilience and humility to humankind."
"The Baobab promotes a deeper understanding of African culture, as rooted in ancient traditions and routed by the migratory experiences of people through the Caribbean, Europe, and Asia to the Americas. Our purpose is to foster community and build social capital. It is humanitarian, not racially or ethnically driven."
Special Events
The Baobab hosts many special events such as art exhibits, film and lecture dialogue series, and themed adventures. Upcoming events are listed on their website. Call or email for appointments with artists or for group tours.
Comments:
Note: You must be logged in to add comments
This is the best place in Rochester for dialogue on social, literary and cultural issues that affect us all. The membership benefits are wonderful. Teachers and parents can count on the Baobab's informative programs for their children. —
MokaLantum
---
2007-10-18 16:46:56 Art openings every first Fridays... Lovely opportunity for a date. —MokaLantum