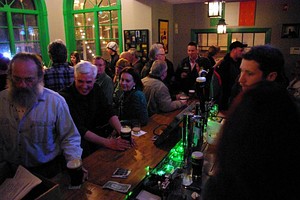 Barry's Old School Irish
Location
2 West Main St, Webster, NY 14580
Hours
Monday: Closed
Tuesday: 8:00AM to 2:00PM
Wednesday - Thursday: 8:00AM to 10:00PM
Friday - Saturday: 8:00AM to Midnight
Sunday Breakfast Buffet: 9:00AM-1:00PM
Phone
585 545 4258
Wheelchair Accessible
Yes
Alcohol
Yes
Website
http://www.barrysoldschoolirish.com
Facebook
Barry's Old School Irish is a pub, bakery and cafe at the corners of West Main St and South Ave in the Village of Webster. The owners were inspired to open this Irish-style establishment after honeymooning in Ireland. They serve Irish style breakfasts and offer alfresco dining on their outdoor patio.
They recently started offering a Sunday breakfast buffet.
They often have live music.
Comments:
Note: You must be logged in to add comments
---
2011-11-29 15:50:28 Visited for lunch today. There was a small, but appetizing and reasonably priced menu. The staff was friendly and informative. My shepherd's pie was delicious. My friend's salad didn't match the description on the menu and contained ingredients she didn't like. It was promptly replaced. The aroma of chocolate cookies while we dined inspired us to get some to go. Will definitely be back. Maybe check out the pub next time. —Ellis
---
2012-03-09 10:04:09 Barry's Old School Irish Pub has really come out of there shell. Owners Danny and Jessica who are expecting a new baby girl couldn't have had better timing for this style Irish Pub, Cafe & Bakery in the Village of Webster on Main street at 250. Whether its a cup of soup and a Shepard's Pie for lunch followed with a side of Guinness Cake, or enjoying a cold Guinness (or my favorite..sorry.. Smithwicks) poured by either Mac, Danny or Jessica and enjoyed with a spicy pickled egg (your choice of either regular or spicy) and some crackers after a long week, this is it!!! I haven't met more genuine people in the time Barry's has been in Webster, NY then I have in a long time, and I am a social butterfly so.... It's a great addition to a street that only had Americanized bar's and fast food..Don't get me wrong, I will still stop in at The Coach for some darts with my buddy Tim but my nights now belong to Barry's Old School Irish Pub in Webster, NY on Main street in the Village...
http://www.facebook.com/pages/Barrys-Old-School-Irish/230845210297563
---
2012-08-12 21:51:51 Went here on night Friday last week. The beer selection is pretty Irish. I got a Murphy's Irish Stout. I kid you not, the head on the beer was as think as cool whip. The service was good for just getting a beer and the place was clean. My cousin and my sister in law were getting bit up outside by mosquitoes so we left after just the one beer. I'd have to go again to get an opinion of the place since the outside deck doesn't say much. —Damiankumor
---
2013-05-08 18:13:12 **LOVE** this place. Owners are great-food is great. Phenomenal environment. —peteb