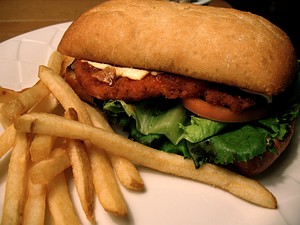 A Buffalo chicken sandwich, with lettuce, tomato, and cheese. Photo by
Premshree Pillai The Buffalo chicken sandwich is a variation of Buffalo Chicken Wings. It consists of a breaded and deep fried chicken breast (alternately, chicken fingers) topped with Buffalo Wing sauce and possibly other condiments (bleu cheese, lettuce, tomato, etc.) on a sandwich roll. Not exclusive to Western New York cuisine, but pretty popular in these parts.
A local variation of this sandwich is to use a sweet and sour sauce, like Country Sweet or Boss Sauce, instead of Buffalo wing sauce. This variation is often served as a submarine sandwich on a sub roll. Good Guys Pizza sells a version of this called the 'Good Guys Sub', which is topped with cheese, ham, and bacon.