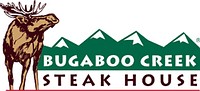 Company Logo
Former Location
935 Jefferson Road, Henrietta, NY 14623
Status
CLOSED
Bugaboo Creek Steak House (AKA Bugaboo Creek) was a chain steakhouse located on Jefferson Road. The interior was decorated to look like a Canadian hunting lodge. The decor includeed animatronic trees and animals that sing songs or move around. The menu was mainly beef, with some seafood (salmon, trout and shrimp). The full bar had a few domestic and import beers on tap, as well as a short wine list. The kid's menu was extensive, and there were usually a fair number of families with small children dining there.
Former location of Coco's Carousel. Closed in 2015. Bar Louie took over the space for their second area location, but it did not last long. Becoming Splash Car Wash in 2023.
Comments:
Note: You must be logged in to add comments
See Archive Page for comments prior to 2008.
---
2008-07-06 13:54:55 I've been searching for a replacement to my once favorite Roadhouse Grill that closed recently, and this was one potential contender. The atmosphere is fun and really unique—it's like a trip into the Adirondacks. I had a trio meal, with BBQ chicken, BBQ Ribs, and steak. The highlight was most definitely the steak. The ribs were all right—but I wasn't a huge fan of the sauce. The chicken was not memorable at all, though when salted enough, was acceptable. The steak was the shining gem. Although I've only been once, the trick might be to make sure you order a steak or nothing at all.
The service was good, and the prices were slightly on the high side—but there was plenty of food to show for it.
Definitely worth a try. —LincolnComet

---
2008-09-29 15:46:53 Having dined here since they first appeared (after the demolition of the old Coco's Carousel, remember that one?) the quality has been steadily declining in the past two years. The tipoff should have been the slew of coupons my employer hands out all the time. —JhirkFace
---
2008-10-08 19:17:58 Their steak is quite lacking in flavour. I would not recommend it. Their fish and chips was pretty good, although cole slaw was awful.
I've come here twice since I moved to Rochester and the service is inconsistent, but I would assume that most customers will receive average customer service. —JenFromDC

---
2008-12-22 19:07:52 We were here Friday during the snowstorm. We got the Snow Chicken appetizer and we both had the Lodge Fillet for the main entree. We are always pleased with our meals here. —PeteB
---
2015-11-15 18:53:57 bar lourie or something is going into this building it looks like when I drove by
I miss this place for 2 dishes —bonnev659