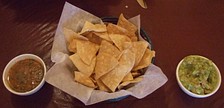 Getting Started, BradMandell
It was closed as of January 2013 and was replaced by Wylie Chayote's Fine Mexican Food and Cantina in April of 2013.
Details of the upcoming restaurant (Wylie Chayote's) from the owner:
We are pleased to announce that Donna, former co-owner of Chilango's is reopening the restaurant as "Wylie Chayote's Fine Mexican Food and Cantina". Jerry Manley, Executive Chef and former owner of Flour City Diner, will be heading up the kitchen — cooking Mexican, American and his famous brunch on Saturday and Sundays.
Donna will still be cooking her flans, tres leches and flourless chocolate cake, as well as serving her house margaritas and sangria. Chef Jerry is working on an exciting new menu, including some of Chilango's favorites, and we will post shortly. Wylie Chayote's (former Chilango's space) is situated in a small plaza in Spencerport and will serve a variety of Mexican and American specialties. Start off with a house margarita (on the rocks) or their homemade Sangria, enjoy the homemade warm chips and homemade salsas, choose an entree, and finish off your meal with flan, flourless chocoate cake or tres leches (3 milks with peach schnapps) cake!
OPENING BY THE END OF APRIL, 2013 / 585 349 3033
---
Old Photos
Old Location
Comments:
Note: You must be logged in to add comments
---
See Archive Page for comments prior to 2008.
---
---
2013-04-08 14:58:23 REOPENING BEFORE THE END OF APRIL! NEW NAME: WYLIE CHAYOTE'S FINE MEXICAN FOOD AND CANTINA. DONNA IS REOPENING AND HAS JERRY MANLEY, FORMER OWNER OF FLOUR CITY DINER, AS THE EXECUTIVE CHEF. STAY TUNE FOR MORE DETAILS.... —donnaheiler