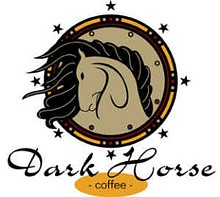 Company Logo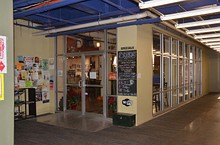 Mall Side Entrance, Dec 2011
Closed in 2016.
Comments:
Note: You must be logged in to add comments
---
2009-07-31 21:04:25 A great place to have lunch or an afternoon coffee break. I tried the Turkey BLT wrap. Very fresh and tasty. The owner, Bonnie, is so friendly. This place is just what the neighborhood needs. —meem
---
2011-03-27 21:20:14 i work in village gate so i was really excited when i heard this place was opening i went for a mid morning snack and everyone there seemed miserable. when i asked the guy behind the counter how fresh the muffins were he told me they were 3 days old and the were not even wrapped! the coffee was nice n hot but left something to be desired. im hoping they r just working out the kinks. —antco
---
2011-04-10 08:30:39 We went here after the Red Wings game last night and were very pleased with our food and the service. I hope this place is a success! —BatGuano
---
2011-05-07 18:18:47 House blend coffee very good, double chocolate cupcake good, service and surrounding very nice, cappuccino not as great, but overall we enjoyed our visit —DottieHoffmann
---
2011-05-26 14:28:44 Lattes are traditionally served as 90-95% steamed milk, and 5-10% foam. You may be used to Dunkin Donuts or Starbucks. Personally, I think they have a wonderful staff. I work in the Village Gate, and go there 2-3 times daily. The staff all knows my name and exactly what I like to eat and drink. I get the impression the same is true for many of the other regulars there as well. ALL of the coffee there is Fair Trade Organic, and purchased from other local roasters. I believe most of their bread, rolls, and baked goods are from Baker Street Bakery, and a few other local bakeries. I am a bit of a coffee snob, and therefore don't even go to Spot, or Colie's as it is now called. Between Dark Horse, Java's, or any of the Boulder establishments, Rochester has a great variety of coffee shops to choose from without supporting that corporate culture. —TheAndy
---
2011-06-07 09:29:22 Dark Horse is an excellent place in a friendly location, the drinks are outstanding the food is Phenomenal, the staff is delightful, its a wonderful place to take your business meetings to or just hang out. Also one thing that really attached me to the Dark Horse was their interest in local art. all around the shop you will see local paintings, blacksmith sculptures, and a nice jewelry stand. The staff is far from rude! They provide an unparalleled level of customer service!! :) —Drakenoto
---
2011-06-14 20:59:45 As I read some of these comments,I get the impression that some may not like Dark Horse Coffee in Village Gate???? I could be wrong??? I stop in there often and get a Latte' and enjoy the relaxing,pleasant service I receive EVERY TIME Im there!!!! I really hope to see Dark Horse Coffee in Village Gate for a LONG TIME!!!!! It completes Village Gate. —Readabook
---
2011-06-17 18:23:51 people keep suggesting that bc village gate and the neighborhood "needs" a coffee shop that people should go here. honestly I think it would be really nice to have a quality coffeehouse in vg but that is not the case here. The quality of service and product here is definitely lacking. the place is decorated nicely but i think they took the horse theme a little to the extreme. I am suprised at how many positive reviews there are on here. I was very underwhelmed with my overall experience and will NOT be coming here again! I dont care if its a 3 min walk from my apartment location isnt everything! —sammieG
---
2011-06-29 14:32:35 I go to Dark Horse on an almost daily basis. The staff is nice, the sandwiches are delicious, and the coffee is hot and yummy. I'm pleased to see the flavors rotated out, as well. I'm shocked to see the negative reviews on here. I think this establishment is taking care of a pretty big need in the neighborhood and I really hope they stick around! —megshoots
---
2011-06-29 15:56:13 I came here after lunch with a friend and was disappointed. My latte was not made proper and my friends drink was way too sweet. The cupcake we shared was excellent though. Overall i give it a 5 out of 10. —jess25
---
2011-07-06 03:14:56 This is the best brewed coffee I've had in Rochester and I, for the most part, like the environment. I have been a frequenter of Starry Nites, but the coffee is better here, there is more food, and the quieter atmosphere is better for working. I really want it to succeed, and that is why I am giving a balanced critique here, hoping management might get a clue to keep their business open.
The main factor marring the establishment is the uptight management. The "vibe" and some of the resulting customer (dis!)service practices are driving people away. I overheard an interaction with a customer in which the person on register (who seemed to be a supervisor) made a customer pay for fancy syrup for his ice coffee, when they had no simple syrup available. There is a comment on another forum about a lactose intolerant customer who was charged .75 for a little soy in her coffee. These are concessions that must be made.
Finally, the AC is too high and when I was there a couple of weeks ago, I heard a manager freaking out about a lack of salsa. I also thought I spotted a camera *behind* the counter and the staff all seem like they are trying but stressed out. I do not want to deal with that when I am already stressing about the thing I working on.
So yeah, management, please take the hint and chill out so I can keep on coming to your business! —KristinaWilson

---
2011-07-08 14:14:43 I agree with kristina the staff eems so stressed an im assuming its bc of management an i also noticed he camera behind the counter on staff so weird. IDK I used to ork in food service an know how stressful it can be without crazy bosses so I def dont wanna support someplace that seems to treat thei employees ba. The coffee is pretty good and the carrot cake I had was great but I pay $7 for coffee and cake for atmosphere which is sooooooo lacking. I dont think Ill come here again. —danopi
---
2011-07-10 02:04:06 Kristina and Danopi.....I usually dont do this but since I wrote on this b4,and someone from the shop asked if I would stop by and look @ some of the comments that were being posted to the site,I just had to add my 2cents after reading some of them. I do enjoy stopping into Dark Horse Cafe and enjoy the delightful Atmosphere,once again,EVERYTIME i go into the shop. I have come to the conclusion that most people that post on this site either are bored or just stay miserable from the time they wake up till they time they go to bed. Those that listen to someones WHOLE CONVERSATION about SPIECY SALSA,or a CAMERA behind the counter,you either work for the company or really have no life. Seriously????? Its a place of business,I would want a camera in every corner of my shop.....Look around in other businesses,see where there cameras are!!! I really have to say the one comment from Kristina sounds like a employee that is either upset cause she no longer works there or not getting enough hours.LoL....either way its funny how you listened to the whole conversation about salsa....In the same breath,that would be pretty SHADY!!!!!!!!!WoW...Either way it goes I really hope to see Dark Horse Cafe continue to stay on the right track and hope to see you in Village Gate for a very long time!!! Thanks for all the GREAT LATTES'
---
2011-07-10 21:21:01 I came back on here to see if things had gotten better bc last time i was on there were a ton of negative reviews but it seems some of those are gone. I have not been back to dark horse in a few weeks but it bothers me to see readabooks comment. Just because someone doesnt have a positive experience it doesnt mean that the person complaining is a staff member. If that is your logic then you are probably some sort of manager. Two people on here say they heard management being rude to their employees then its probably true. If thats how they want to run their business that is fine. BUT dont bash customers on here because they are bothered by it and you are not! —sammieG
---
2011-07-10 21:25:52 Also I would agree with the comments people have made about the atmosphere being bad. when I did last go in it did not seem like a friendly neighborhood coffee shop the employees seemed to scared to even have a conversation with the customers. In my opinion that is what keeps customers coming back to a coffee shop. the friendly service.you can get good coffee mannnnnny places in rochester. If the employees arent warm conversational and approachable and the product isnt that spectacular why bother? BTW I do not and have never worked but if you are a manager readabook maybe you should take a hint that some customers arent happy!
---
2011-07-12 22:26:21 Came in when you first opened had a awesome cupcake..they where the same cupcakes that they had at spin...I was in heaven...again. and well your deserts are not the same .I am a well trained barista and the manager at former spin cafe..you need some serious help —Mikeespencer
---
2011-07-13 23:19:35 SammieG, my name is Bonnie Haley and I am the owner of Dark Horse Coffee. I realize we cannot please everyone that comes into our coffee shop but we do try and I am sorry that you have had a bad experience. I would like to invite you back and please ask for me because I would like to talk with you. We did not open this coffee shop to make it a bad experience for anyone, we have tried to create a warm and inviting atmosphere for everyone and I believe we have done that. Also I do appreciate the constructive criticism, it can only help us become even better. Thank you —BonnieHaley
---
2011-07-13 23:30:04 Noticed a few comments on here in regards to the cupcakes, unfortunately they were not that popular at the shop so we decided not to carry them. We do get our pastries locally from Bakers Street Bakery, Great Harvest, Elegant Expressions, Laurie Cimino and Petrillos Bakery. I think they all do a great job so please don't be afraid to try them. Thank you —BonnieHaley
---
2011-07-19 20:27:05 Well if there had been many comments about the cupcakes they must have bot done too bad..also you warped them that was not a good move..I know you might be trying but you make a sad cup of coffee...if you are up to suggestions you should use Joe bean coffee beans..they are great...train your employees..make them not look so scared to talk to employees..bring back those exact cupcakes and maybe a caramel espresso cake..don't pretend that great harvest is local or that the desserts are that are good..spend more time with the customers they are not just your paycheck treat then like family..take the time to ask how their day is not just "here's your drink". Fire the lady who got rid of the cupcakes..that person should not make cafe decisions. —Mikeespencer
---
2011-07-19 20:40:53 Mike Great Harvest has 2 stores in Rochester....they would be considered local.
Twelve Corners Plaza
Rochester, NY 14618
Great Harvest Bread Co.
Park Avenue (Satellite)
Rochester, NY 14607 —PeteB

---
2011-07-19 20:44:29 That's like saying applebees is local —Mikeespencer
---
2011-07-21 15:29:57 @ Mike. I honestly don't know where to start with you. You're defending a coffee shop that WENT OUT OF BUSINESS. I kind of already feel like your opinion is far too biased to even bother plaguing us with your banter. I'm sorry you lost your job, and I am also sorry - but I live less than 100 yards from where Spin USED TO BE on Park Ave, and my girlfriend and I would never go there. Why, you might ask? - because you think so highly of yourself - well, frankly, the coffee was always really bitter, and the espresso never seemed to have any depth of flavor, it seemed flat and chalky, unless it was covered up with an inexcusable amount of syrup. And you're right, Joe Bean makes great beans - how did you guys ruin them? Maybe that's why you went out of business? Clearly it wasn't because of the cupcakes.
Second, I would like to point out that Great Harvest (although you're right in it being a national chain) has very loose franchise laws. They are required to carry a handful of the parent company's signature items, but I assure you that Andy, the owner, has put a great deal of his personal recipes into the mix there.
Furthermore, if you were "well trained" you might have offered a more insightful critique of the coffee you so quickly wrote off.
I go to many of the coffee shops around Rochester, because I think we have a wonderful variety that can please just about anyone. If you don't have anything nice, or noteworthy to say, you shouldn't say anything at all. This a place for constructive criticism. —TheAndy

---
2011-07-22 08:44:28 We frequent Dark Horse almost every morning during the week, and once in a while on weekends. Their coffee selections are very good, and the brews are always balanced. This is also one of the few places in Rochester where one can get a decently made cup of tea. During the summer I enjoy the fruit cup and ginger peach iced tea for breakfast often, and the wraps are excellent. Bagels are from Balsam Bagels, one of the best bagel bakeries in town. Many pastries are from Baker Street, a favorite of mine. The raspberry chocolate macaroon is exceptional! Yes, they get some product from Great Harvest, which is a chain, but a chain that makes some of the best muffins and scones in Rochester. There are many coffee shops in Rochester that claim to have the best espresso based specialty drinks, but beside Chocolate & Vines there is no other place in this city that has delivered more consistent quality than Dark Horse.
Customer service is a step above at Dark Horse, and we have established friendships with many of the employees. I have never had a bad experience in this area. Yes, they have made the odd mistake on my order (I count two to date) but it was never the end of the world, and they always made it right. Service is always quick and cheerful, and every chance they get they will go a step above. The environment is comfortable and tastefully decorated, with many works from local artists.
Coffee shops come and go, but Dark Horse shows real staying power. —JackPorcello

---
2011-07-22 17:06:55 This place is a great place to hang out and have a cup of coffee. The selection is always rotating, and the coffee always tastes great. I know the manager and a several workers on a first name basis. I appreciate how the staff gets to know customers. It is the type of local community business we need more of these days. —Laura
---
2011-07-23 13:36:37 wow i just moved to rochester and i have never seen a wiki so full of excitement. As far as the coffee goes I didnt really like it, very bitter, my wifes latte was made like a cappuccino and it was way too cold in there. I gave it a shot I def would not go there again though. —harryc
---
2011-07-25 11:29:31 @The Andy...first off all you spin cafe closed not due to the quality off the coffee or service...it was due to the owners and their personal financial position..The employee not only did a great job serving ..but our product was also the best..we had cakes from cheesy eddys and newbury park..lose leaf teas..to say it was anything less then perfect your be stupid...get your coffee for a gas station...I def think highly about those people who worked there. I by the way had and have many jobs so don't be sorry about that..second I am sure you could not tell what good espresso is if it was made right in your face...you prob work for dark horse yourself..and to make it clear the employees are great at dark horse..I am attack the product coffees and cakes..and poor managenet....At coffee houses the employees should be welcome to talk to the customers ...and no matter if kinda trash coffee/espresso you like the dark house sucks making espresso..but again the employees do a good job and are not to blame..so poor Andy I am glad you did not come to spin cafe...I like to serve people with taste.. —Mikeespencer
---
2011-07-25 11:32:42 BTW chains a chain ya dope —Mikeespencer
---
2011-08-11 15:29:38 Most importantly, the vibe at Dark Horse has gotten better. Perhaps Bonnie has just become a little more confident about her awesome establishment. It makes a big difference and I am here multiple times a week.
However, given the very intense reactions my comments elicited, I'd like to follow up a bit. First, I am far from being an employee here but I have worked in the service industry before so I cannot help but keep my ears open. Second, to the folks who say that this forum should be only for positive feedback...well, that doesn't make sense at all. It doesn't help businesses get feedback they can improve from and it doesn't help possible patrons make choices about where to spend their time and hard earned wages.
Finally, to those who say that you can't please everyone, I would point them to Fusion Salon's RocWiki. —KristinaWilson

---
2011-08-22 15:39:59 My wife and I went out here for brunch Sunday. She had the egg sandwich and I had the Spinach Chicken Ceasar Wrap...very nice. Great atmosphere. Really enjoyed it. —PeteB
---
2011-08-29 12:03:48 I like to come here to read for a bit after picking up my comics from Comics Etc. Nice relaxing place. Excellent brewed coffee (possibly my favorite in Rochester,) and I highly recommend their Cajun Chicken Panini. —TimCrist
---
2011-09-06 12:59:30 I had a hair in my sandwich. Disgusting. When I told employees they didnt even seem concerned. Never again —Sarareed
---
2011-09-07 22:45:28 Sarareed, WOW. I cannot believe you did not bring this to the attention of the owner which would be me. I know that is something my employees would take care of and bring to my attention if it happened. With that said I hope you come back to talk to me about this so we can rectify the situation. I look forward to meeting you and thank you for bringing this to our attention. —BonnieHaley
---
2011-09-08 07:48:14 I've been here several times and had always had pleasant experiences. The Village Gate courtyard is a great place to relax with a cup of coffee during warm weather. —EileenF
---
2013-02-06 17:36:29 The Barista was friendly but the coffee here is meh. Baked goods seemed a bit processed or maybe food distributor quality not fresh delivered from a bakery.With all the coffee shops in Rochester this place would not be top on my list to return to. —jcs3636