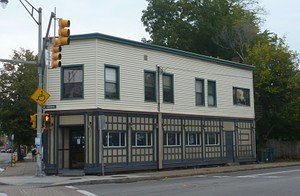 Oct. 2012
Former Location
938 Clinton Ave South, Rochester, NY 14620
Status
Closed as of November 2012
Elixir was a bar in Swillburg. They hosted a karaoke night, and had two dart boards and a pool table. Drinks included most mid-shelf liquors, with a few beers on tap including Newcastle Brown Ale and Budweiser. Karaoke on Saturday night from 10pm to 2am.

Parking was available across the street at Wilson Farms.
Elixir closed in November 2012.
Comments:
Note: You must be logged in to add comments
---
2010-01-25 01:32:23 Fun, relaxed, comfortable place to hang out with some regulars from the neighborhood. Friendly bartenders, most are willing to accommodate your requests. Open Mon-Thurs 6pm-2am; Friday 5pm-2am; Sat 7pm-2am. Beer specials every night including dollar bud/bud light drafts Friday nights and pitcher specials Saturday nights with Molson $2 every night. Karaoke every Saturday, guest bar tending Monday nights from 8-11pm and the occasional band playing on Friday night. Parking is available across the street at Wilson Farms. It's a great little place that is too often overlooked. —MegW
---
2010-02-14 15:32:15 Im just surprised this place doesn't get busy based on where it's located. Decent place. —MetalFrost
---
2010-12-08 00:03:56 Elixir is great! The drinks are cheap but well-made; the bartenders are friendly; it's never too crowded or too loud. I share the previous reviewer's surprise at the fact that not too many people seem to know about the place. —MeganLangley
---
2011-07-30 18:13:35 These previous comments I just don't get... It's a terrible place to go. Location is bad. The people that come here are "sketchy" and the bartenders and "locals" are extremely rude. —jennyjune
---
2013-11-02 15:58:13 Closed since Nov 2012. GBNF? Currently renovation activity present. —jgerek
---
2015-05-29 16:02:55 Best bar ever! Loved the regulars and met my husband there! Miss it forever!