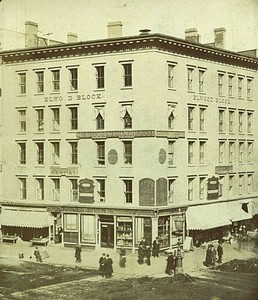 The Elwood Building c. 1869-1878
The Elwood Building was built on the Four Corners (State Street and Main Street) in 1879 for lawyer Frank W. Elwood, whose family owned the property. The building was demolished in 1967 as part of the Genesee Crossroads Urban Renewal Project. The Crossroads Building was built on its site.
The building was noted for a corner tower and for the gargoyles that adorned the building.
The building was also the site of the first Mail Chute put into service.
Notes and References

This entry is a stub, a starting point for writing a full entry. You
can help RocWiki by expounding it! Just click the "Edit" icon above.
Comments:
Note: You must be logged in to add comments