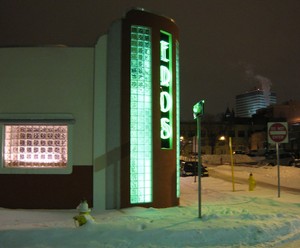 Exterior at Night 03-2008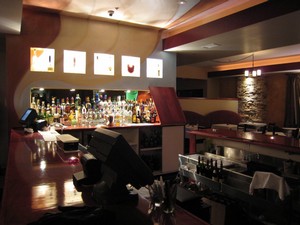 Rear of Bar Area 03-2008
Former Location
37 Charlotte St, Rochester, NY 14607
Status
CLOSED (as of March 2013)
It closed in March of 2013.
Comments:
Note: You must be logged in to add comments
---
See Archive Page for comments prior to 2008.
---
2008-02-02 11:35:13 Went here again last night and had another amazing meal. This is my new favorite restaurant in Rochester. Started out with the chorizo/manchego/basil flatbread pizza. My partner had the 5 onion soup w/crostini on top. Both were delicious. I had the Red Snapper Livornese and my partner had the Roasted Chicken Breast. Seriously, words can't describe how amazing the food was. More people need to check this place out! Every time we go it's always empty! —MarcVera
---
2008-02-16 12:40:34 very tasty food, and but i have to say i think the draw is the ambience. extremely pleasant and laid-back but upscale(ish—without seeming pretentious or misled). the cocktails were remarkably good: there were four of us and we each got something different, and we were all quite pleasantly surprised by their quality and quantity. we'll definitely be back. this might be one of those undiscovered treasures in the good old ROC. —ElizMazz
---
2008-02-25 01:32:15 Been there twice and both times were excellent. Great spanikopita. Had the flat iron last time, very tasty. Choc torte also highly recommended.
This is quickly becoming one of my favorite places —DrKennethNoisewater

---
2008-02-26 22:19:52 Have to agree with the comments above. Went to Eros last Friday night around 7:30pm, and was delighted with everything about this place. The decor is gorgeous (even the bathroom is beautiful!) - very relaxing and mellow. The service was great. And the food was unbelievable. We started off with the greens and beans, which were brought to the next level by the thin slices of aged Parmesan set atop the dish; we both had the roasted chicken, stuffed with chorizo and apple - creative, juicy, and so flavorful - and finished off with the apple crisp, which had a touch of rum flavor that paired beautifully with the caramel and vanilla bean ice cream. Altogether a wonderful place. I'm baffled by one thing: where is everyone else? We were one of maybe 4 full tables in the place. With food and decor like this, Eros should have had a line waiting at the door. —GreenBrenana
---
2008-03-30 09:55:29 This restaurant is great. After waiting more than an hour for our reserved table at 2-Vine we walked over here. What a treat! This place beats 2-Vine hands down with excellent food, beautiful ambiance, and friendly efficient service. You wont be disappointed at this restaurant. —JamesPatrick
---
2008-04-15 10:17:45 After dining at Eros for a second time last week, I'm afraid I have to retract my original favorable review. I went to Eros for an important lunch, assuming that the experience would be a positive one. Boy - was I wrong. The service was exceedingly slow, especially considering we were one of four tables in the place - it took 20 minutes to even get us bread! My food was fine, but my dining companion's tuna was so heavily spiced that he couldn't even eat half of it - and this is for a man who loves spicy food! Since we had already been waiting for almost an hour when we got our food, he didn't order anything new, but when I mentioned to the waiter that the tuna should be advertised as 'spicy tuna,' he very coldly thanked me for the suggestion. After this I would have expected the entree or even our after-lunch coffees to be comped, but nothing was on the house. We waited another 20 minutes in the now-empty restaurant for the check. Needless to say, I won't be returning to Eros again. —GreenBrenana
---
2008-04-16 13:58:29 I enjoy Eros. The owner is friendly and many of the dishes taste great.
Ive celebrated 2 birthdays here, with 2 large groups, and service and dinner were pristine.
Id reccommend it and the place looks great inside, outside still holds the remnants of the cheesy bar that used to be located in this spot. —MrRochester

---
2008-06-17 10:29:48 We are a couple in our late 30's, who dine out every weekend from Park Ave to Corn Hill to St. Paul Quarter, to East Ave areas. Took another couple here for a celebratory dinner to try something different. While the re-decor of the previously ultra cheesy Metro was an improvement, unfortunately our dining experience fell short on both taste as well as service. We were not impressed and worse yet the place was nearly empty, which lended a rather sad feel to our celebration. Not exactly what one looks for in an evening out. We had hoped for more so we will stick with 2 vine or Virtu. —MaryandTonyMarcelleano
---
2008-08-12 22:34:21 Decent food and good service. The decor is 50's chic. It is dark inside which creates a nice ambiance. A big plus for me is that you can talk to your dinner companion without shouting at them. —ScottHendler
---
2009-08-31 19:38:30 Returned after about a 2 year hiatus and once again had a very good meal. Went with a party of 6 and all wre happy with their meals. I started with the Greens and Beans. While a little pricey for the portion, the flavor was excellent with the Chorizio adding a nice twist from the norm. Opted for the Osso Boco , which I thought was better than my previous favorite version at Sienna. Wife ordered the the Sea Bass with Asparagus and Blue potatoes. The fish was cooked to perfection. The bartender came over to the table and bought us a round of drinks because the staff thought that the service was to slow. It caught us by surprise as that thought had never been mentioned by any of our party. As with our other visits , there was a very small crowd at 8:00 on a Saturday night. Strange, I see many restaurants that are not nearly as good packed. —almorinelli
---
2009-10-20 10:29:32 My wife and I dined at Eros last evening for a special occasion and were once again pleased with our experience. It was a quiet Monday evening with only about 6 tables of patrons in attendance. In spite of it's "out of the way" location I believe this restaurant deserves a higher profile on the local dining scene. The tomato artichoke bisque was rich and flavorful, and the spinach roasted beet salad was nicely balanced with the warm dressing only holding a hint of bacon so as to not overwhelm the other components. My rack of lamb (only $24!) was a little more done than I ordered, but this was offset by delicious lemon-scented potatoes (not the Greek lemon potatoes you might get in a Greek diner) and grilled asparagas (a personal favorite) on the side. My wive had the spinach fettucini with shrimp and scallops. The pasta was fresh and perfectly cooked, as were the scallops, but the shrimp were a bit "iodiney". When we brought that fact to the attention of the staff at the end of our meal they graciously offered us a comp dessert. This creme brulee was excellent, with just a hint of almond to make it special. Eros serves several interesting wines by the glass - the Malbec was lucious and went with my lamb perfectly while the pinot grigo was a bit more average. Overall a very nice evening with pleasant surroundings and professional service.
---
2010-03-12 15:28:48 My wife and I went here for her birthday just to try something new. We were both extremely satisfied with the food, service and ambiance. One of the best meals we've had in the ROC. —MattDana
---
2010-03-29 17:22:12 Went here for Valentine's Day, and I can say the food was good. However, while we were at dinner our car was broken into and several items stolen. When we went back into the restaurant to wait for the police as it was very cold out, I heard from one of the staff that this is not an uncommon occurrence. And that actually it had happened several times on this street! (More at 2Vine which is a a couple feet away.) We were parked right in front of the restaurant (by their parking lot). Considering we paid ~$100 for our meal and they know this is a problem I would have hoped that they could at least hire a guard/patrol man for their parking lot to protect their diner's interests! My husband emailed them about this and we never even got a response. To us, given the high probability of being robbed again, as well as the lack of customer service we will not be going back, nor can we recommend this to anyone. —mkmclaughlin
---
2010-11-15 10:14:39 Very disappointing...service was slow and unprofessional. Food was average and overpriced. We'll stick with 2Vine and Rooneys for special occasions. —sjgray8
---
2011-11-21 15:17:19 This is a review I originally posted on Yelp:
I was expecting a lot from this place, but left feeling rather underwhelmed. The decor of the place is good (although putting the bar right in the center seemed strange, and made me wonder if it's primarily a drinking establishment), and the service was quite good. Unfortunately, the food wasn't great.
To start off, we ordered one order of saganaki, which is usually served flaming, and brought to the table that way. Not here, though. Also, it was quite salty.
For my entree, I had the chicken cutlet, which, to be honest, was a bit bland, and quite dry.The potato was quite nice, but the portion was small, as was the spinach. My partner ordered the 3meat souvlaki, which he said was a bit dry, as well.
I was also underwhelmed by the choices for wine by the glass. In fact, that Pinot Evil pinot noir was weak and bland.
If I go to eat there again, I will probably limit myself to trying their pizzas. They certainly don't live up to the 'fine dining' the advertise.
---
2011-12-30 09:34:22 I was at this place last night. I had the Kobi burger it was good although a bit more well done than I would prefer, despite this it was one of the better burgers I've had in my life. The fries were over-seasoned but good. We started with the fried mozarella dish and when it was brought out I was amazed at how beautiful it looked and how well it was plated; in addition it was incredibly good. This kind of attention to detail was a real slam dunk for me. On top of that the food was incredible and the portions were good sized. I would go back and extoll the virtues of this place to all of my friends. —joshr
---
2012-03-19 01:28:19 Me and my friends went to Eros tonight for their wine dinner. Its my first time attending one but i have heard nothing but amazing things about them in the last six months i finally was able to go to attend one god it was worth literately twice what i paid. it was some sorta asian french fusion theme i guess there is some type of theme to all of them but this one is hard to put into words. everything was so balanced and crisp and perfectly put together. my favorites were the first course with the shrimp there were so many textures playing together and the bold flavors were to die for and the duck breast it was so perfectly cooked and seasoned in a way ive never seen or heard of before it was to die for and also the desert so inventive and unique the chef made sushi out of fruit and rice pudding wrapped in a kinda fresh mango fruit rollup of something put ontop of creme anglaise which by itself i could eat bowls of i will deffinaly find time to go to every dinner they can have so excited for the next one and P.S. the executive chef came out to answer questions and talk about the food i have to say without a doubt he is the sexiest chef i have ever met idk if it was just because his food turned me on so much or the way he talked so passionatly about it or just mearly the fact he is very attractive and confidant i wish i wasnt there with my boyfriend if you know what i mean cant wait to come back amazing job guys from start to finish —TinaMcFee
---
2013-03-11 17:02:26 Has this place closed? Last Saturday, it was dark. —alex-c
---
2013-03-13 18:20:26 Alex-C, I just tried calling them and nobody picked up. Hmmm... can anyone attest to them closing? —TippingPoint