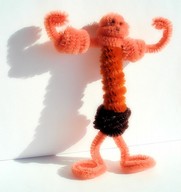 Fuzzy pipe cleaners in action. Source:
Bob.Fornal
The fuzzy pipe cleaner, perhaps the most ubiquitous of all children's arts and crafts materials, was invented in Rochester by John Harry Stedman who is interred in Mt. Hope Cemetery. And yes, it was originally intended for
cleaning pipes.
It was one of the inventions that made Stedman a wealthy and prominent resident of his day.
Notes and References