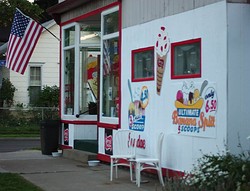 Grandma's Ice Cream 07-2009
Former Location
793 S Goodman St, Rochester NY, 14620
Status
CLOSED August 2011
Granny's Ice Cream Parlor (aka Grandma's Ice Cream Parlor) was an ice cream shop on South Goodman Street that opened in 2007 with a selection of Perry's ice cream products.

Closed as of August, 2011. The owner does serve ice cream at various events, like the Roller Derby, maybe he had better success doing this than running the store.
Comments:
Note: You must be logged in to add comments
---
2007-06-01 10:25:33 Nice local startup on Goodman. Off the beaten path for the South Wedge crowd, but a great neighborhood ice cream stand for us locals. —DragonFlyEye
---
2007-07-06 13:03:36 Right around the corner from me! The people (couple?) who work there are very, very nice and are always friendly when we walk by. —SaraChristine
---
2007-11-10 16:09:27 Right around the corner from me as well. This place is awesome if you want to simply grab a tasty cone of Perry's on a hot summer day. The prices are great and the owners are so friendly and willing to chat it up for a bit. Love it! This business is a wonderful addition to the neighborhood and I really hope they stay. —CatMagro
---
2008-09-26 17:56:37 Nothing too special about this place. Perrys ice cream is good, by 3 dollars for two scoops good? Seems a bit pricey. For an excellent variety, a lot for your money, and a good setting (the canal) on a sunny afternoon, I recommend making the trip to Lickety Splits in Fairport. —AlisonRose
---
2009-05-07 14:38:48 Granny's is not just about ice cream anymore. This summer owner Patrick Belle-Isle is letting the Ceildh Connection, a small Scottish pipe band, practice at this shop. They've been there on Mondays, but recently changed the night to Friday. Stop by for a cone and a wail! —NancyOdonnell
---
2009-06-06 22:53:31 What really impresses me is the care he puts into running the shop. His commitment to the ice cream parlor really conveys a commitment to the neighborhood and especially the kids. He recently had visitors from the Clarkson Rodeo to entertain the patrons. Casual passers-by were pleasantly surprised to meet Cowboy Patrick with his horse, a miniature horse and a pot-bellied pig, not to mention the Queen of the Rodeo herself. Here's to Mr. Belle-Isle's third season of business (with much credit due to his sister who lends a big hand in keeping things ship-shape). —cappycollins
---
2009-06-19 10:01:13 our family enjoys going to Granny's. The prices are great. A great variety of Perry products, many that are only available in a ice cream parlor. —sallym
---
2009-08-27 13:02:04 Too bad the people that run this parlor are fake and are only looking for your buck!!! When you stop in ask them where their mother is!!! —CarrieSmith
To All: I'm not sure of the validity of this smear — what is RocWiki etiquette here?

---
2009-08-29 08:04:48 Hmmmmm. There are seven very nice comments, and one strange negative one. Wiki etiquette is that you don't erase anyone else's comments, but you can simply play that old Sesame Street game "which of things things is not like the others, which of these things doesn't belong" LOL. —DottieHoffmann