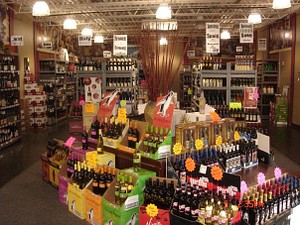 Facebook Image
Former Location
746 Monroe Ave, Rochester, NY 14607
Comments:
Note: You must be logged in to add comments
---
2009-10-27 17:27:38 I love Hollywood Wine & Spirits!!! This is without a doubt in my head the ABSOLUTE best liquor store I have ever been too! No I don't work at Hollywood I just go there all the time! They have a computer that you can type in you favorite liquor, like RUM for example, and they give you recipes of all the different drinks you can make with RUM, and you can actually print out all the recipes!!! Its awesome!!!!!! They also have these things called "party packs there" A party pack is this really nice tote bag that comes with 6 different kinds of alcohol. The day I bought mine it had a bottle of white wine, red wine, bottle of vodka, gin, rum, and margarita mix.
THIS IS HONESTLY HONESTLY HONESTLY THE ABSOLUTE BEST LIQUOR STORE I'VE EVER BEEN TOO —PaigeAllison

---
2009-10-27 17:28:52 o yea and the party packs that come with 6 big bottles of alcohol are only like 39 bucks!!!! —PaigeAllison
---
2009-12-20 09:27:53 I was at their shop the other day and was impressed how helpful and knowlegeable they were about wine. Hollywood Wine and Spirits is the place to go! —BobJohnson
---
2010-07-15 10:27:14 Great store, the selection is not always the best but they have great prices. They just opened a beer store and deli in the adjacent area. The beer prices are definitely very competitive. (Saw a 6 pack of an import there for $8 that I had seen for $10 at Wegman's that morning.) —BadFish
---
2010-10-24 22:58:04 I went there today and the guy was friendly and helpful. —AdrianMartin
---
2011-05-27 16:13:42 This place is ok but I don't think they know much about what they are doing here, some kid in an Abercrombie t-shirt tried to pretend like he knew what he was talking about when he obviously had no clue.
---
2014-02-17 08:34:01 Not a great selections but the prices are good. If you are looking for a good price on your "standard", run of the mill spirits, (Skyy Vodka, Beefeater Gin, Jameson, Captain Morgan, etc) then you will be happy. Their prices are pretty good. If you want more of a selection or nuanced advice, look elsewhere. Their location is pretty good though. I've run in a couple times to pick up some liquor at a good price and it's usually right on my way. —RochFoodie
---
2014-07-06 21:08:14 This is literally the worst liquor store in the city. Not only is it a literal hole in the wall but they have high prices AND I have been made to feel unwelcome by 2 of the associates there. Usually with a smaller place you expect them to make up for their limited selection and higher prices with customer relations...but DO NOT EXPECT THAT HERE. I dont know where they get off treating their customers the way they do because they obviously need the business.
If you are going to buy liquor you might as well continue on down the road to white house or the new place owned by wegmans in pittsford plaza, where you can get both selection and customer service. —bjk2424