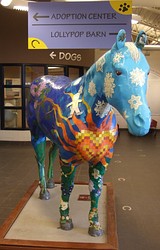 BradM Lollypop Farm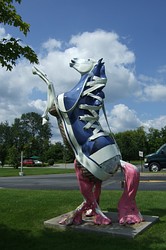 BradM Perinton Gymnastics
Location
All over town
Hours
Any time
In 2001, Rochester followed in the hoofprints of other cities with our own animal masquerade: Horses On Parade, sponsored by High Falls Brewing Company (makers of 12 Horse Ale).
More than 150 decorated fiberglass horses were placed throughout the area. The program was conceived by Dixon Schwabl and organized by The Big Parade and is one of Rochester's most high-profile charitable events ever. Many of the horses were sold to private residents and are currently displayed on front lawns, especially in the Irondequoit area. Most of the horses continue to be displayed in front of companies and store fronts throughout Monroe County.
The event was repeated two years later with Animal Scramble, which included an entire menagerie of different animals.
Notes and References

More Photos
Comments:
Note: You must be logged in to add comments
---