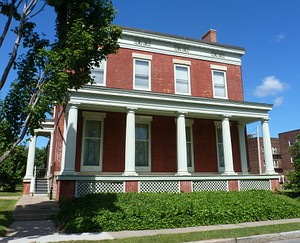 The Hoyt-Potter House is pre-Civil War Greek Revival mansion in Corn Hill that is listed in the National Register of Historic Places. It was built c. 1840 by David Hoyt, a prominent bookseller and stationer, for his wife Mary and their eight children. The house was sold to businessman Henry S. Potter in 1850. Potter later became one organizers, directors, and largest stockholder of what eventually became the Western Union Telegraph Company. His daughter Henryetta Potter lived in the house until 1907.
By 1969 the Hoyt-Potter House was serving as a boarding house and was in poor condition. After numerous codes violations, all tenants had vacated by 1972 and the owner had begun a twenty-year process of suing the city for demolition. During this time the empty building suffered numerous indignities, including vandalism and a fire that left a hole in the roof for the next eleven years.
Finally, in 1989, the Landmark Society of Western New York began the long process of rehabilitating the house to serve as its headquarters. In addition to the Society's archives, the Hoyt-Potter House also contains the Wenrich Memorial Library, "[o]ne of the finest collections in this region of materials on architecture, preservation, horticulture, local history and decorative arts; and photos, slides, drawings and architectural surveys of our area's landmarks." It is open by appointment only.
The
Corn Hill Neighbors Association also lives here.
Comments:
Note: You must be logged in to add comments