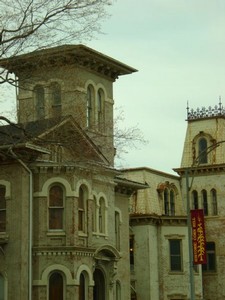 (Photo by Tricia Seymour, 4-2008)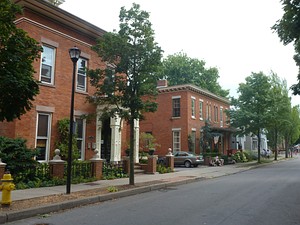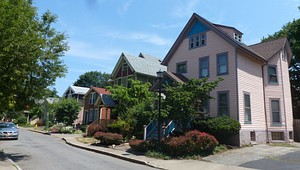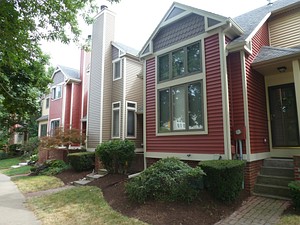 Corn Hill has some new construction as well (2012)
Located on the very edge of downtown, Corn Hill is the oldest residential neighborhood in the city and contains many beautiful Victorian homes. The Third Ward Historic District makes up a large portion. Although it is not as popular a settling spot among UR students as neighborhoods in the Park Avenue or South Wedge area, it is a lively urban area offering unique opportunities for dining and entertainment.
This neighborhood was named for the cornfields that grew the corn to feed the pigs in Swillburg. Today, Corn Hill is one of the most cohesive neighborhoods in the city, with a very active Neighborhood Association - located in the beautiful Hoyt-Potter House - that includes community-based projects such as Corn Hill Tool Library, where residents can pay a small annual fee to borrow from a collection of over 300 tools. Corn Hill is best known for the massive Corn Hill Arts Festival, which they put on every year in mid-July. Residential and commercial space has expanded in recent years in the form of the Corn Hill Landing development.
Corn Hill is also the location where blues musician Son House was living during the period when he stopped making music. It is unknown whether he stopped because he no longer had the blues while living in Corn Hill, or because Corn Hill simply sucked the desire right out of him.
A good way to get to Corn Hill is by taking the Ford Street Bridge from Mount Hope Avenue and turning right on Exchange Boulevard or Plymouth Avenue. This area, which includes the Ford St and South Plymouth Ave Traffic Roundabout, forms the border between Corn Hill and the Plymouth-Exchange neighborhood, which is to the left. The homes here were built as part of the Carlson Commons and Plymouth Manor developments for
low-income families. They are attractive, with large front porches, and very well-maintained.
Establishments

Other Landmarks

Links

Comments:
Note: You must be logged in to add comments
2010-12-06 10:07:38 — Corn Hill is a great place to live with nice residents and cool places to eat out like The New Taj and Toni D's. JulioCadiz

---