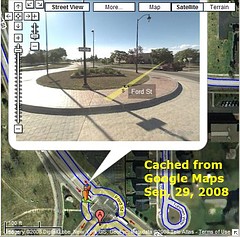 The Ford St and South Plymouth Ave Traffic Roundabout is considered a "
Modern Roundabout". It is located at the intersection of Ford Street and South Plymouth Avenue right when you exit the Ford Street Bridge. See the Wikipedia article for extensive information and background, including the differences between a roundabout and a
traffic circle.
Before even considering entering the roundabout, first and foremost, learn how to drive.
Roundabout Instructions1

Step 1: Slow down when approaching the roundabout, dipstick2. Speeds of about 15 to 20 mph are recommended.3


Step 2: Yield to pedestrians in the crosswalk ahead of you.


Step 3: Yield to cars on your left before you enter the roundabout. Enter the roundabout once there is an adequate gap in the traffic.4 Simply make a right turn. 5


Step 4: Once in the roundabout do not stop. Continue until you get to your exit.6 Remember to use your signals.7


Step 5: Yield again to pedestrians in the crosswalk as you exit the roundabout.8
Heather's Poem: 'To the Drivers On The Roundabout'
Notes and References

Street View on Google - shows the actual roundabout, whereas the satellite view shows the previous intersection with a light (and a large truck waiting for it.


What is a Roundabout - (See Page 7) on StreetActionItems.pdf


Massachusetts has long been populated with thousands of "Rotary" interchanges and ensuing problems with out-of-state motorists who are not familiar with Rotary Rules or Etiquette. The Roads of Massachusetts website reminds drivers: "In practice, older cars in worse condition than yours, and other drivers who fail to make eye contact, always have the right of way in a rotary."