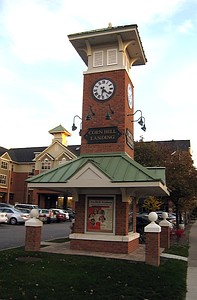 Corn Hill Landing clocktower, 10-2008
View of downtown from Corn Hill Landing waterfront.
Corn Hill Landing is located in Corn Hill along the Genesee River, almost in the shadow of the Douglass-Anthony Bridge. This mixed commercial/residential development includes 127 apartments, 15,000 square feet of office space and 14,000 square feet of retail and restaurant space. Residents may park in its underground garage. With its riverfront location, it offers a
harbormaster and access to boat docks.
Establishments
View of downtown from the current site of Corn Hill Landing in March of 1992. Visible is the absence of the Freddie-Sue Bridge, Legacy Tower and Tower280's new blue glass facade.
Other
Comments:
Note: You must be logged in to add comments
---
2008-03-18 08:22:32 The
- Exodus is starting, get ready for Fast Ferry part duex.
---
2008-03-19 23:52:09 A nice idea, but the apartments are horrendously overpriced. Will any Rochester developer create a real city living alternative for young professionals? —NathanHenderson
---
2008-03-20 15:23:55 The Corn Hill Creamery is moving? —JoannaLicata
---
2008-03-21 10:39:32 How much are the apartments? It's not listed on the website and might be useful information for this page. —SaraChristine
---
2008-08-27 15:52:30 The apartments are very dated for being built in 2007. $800-$2000 for linoleum and brass lights? Did we go back to 1997? Underground parking is how much a month? While the place had good intentions and looks nice on the outside, the interiors are like a nostalgic trip to the 90's. Way overpriced for what you get. —MrRochester
---
2009-04-17 18:15:12 I applaud the effort at Corn Hill Landing although it seems to be trying to create a lively scene out of nothing at all. I can almost guarantee shoddy construction of the apartments and overpriced rents although I don't have intimate knowledge of either. I hope it succeeds because it really is some prime real estate (right on the river with a great view of the bridge). I just hope people are willing to let it go through several iterations/convulsions because, right now, it still needs to find an identity. —BatGuano
---
2009-08-05 09:13:39 While the management team is good...that sort of must be expected since the leasing office is on site and the management building is right across the street. Good location, but other than that this place is extremely overpriced. I agree with MrRochester's assessment - very dated. Some of the layouts are nice, but again, for a building built ~3-4 years ago, and for the price you pay you should get more if they want a true alternative to Park Ave/suburbs. They are also very poorly constructed - the walls are extremely thin, and if your neighbor has a hair dryer on you'll be able to hear it. I was one of the first tenants in the 2nd "wing", and a pipe had burst in one of the bedrooms in my apartment...forcing me to live in the living room for a month while the entire ceiling was removed and the pipe was replaced - and no compensation or apologies offered. Also, $150 a month for an underground parking spot? No wonder the outside lots are full.... —Gordo