Jembetat Storefront, Fisheye, 2-2012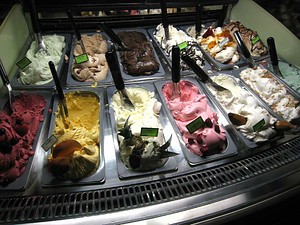 The Gelato Case, 03-2010
Locations
Phone
10 Schoen Place, Pittsford, NY, 14534
Info Needed
Hours (as of May 2010 per Website)
Park Ave:
Mon-Wed: 10:00AM to Midnight
Thursday: 10:00AM to Midnight
Friday: 10:00AM to Midnight
Saturday: 10:00AM to Midnight
Sunday: 10:00AM to 11:00PM
Schoen Place:
Info Needed
Accessible
Yes
Alcohol
Yes
Email
<jembetat AT gmail DOT com>
Website
http://www.JembetatCafe.com/
Jembetat Gallery and Cafe is a cafe that exhibits tribal art from Central and West Africa. They also carry unique international jewelry from Europe, Bali and many other designers. They are located on Park Avenue across from Jine's and Charlie's Frog Pond.
In March 2010 they expanded to include a European style cafe with seating for 45 inside and 30 seats outside on the sidewalk cafe setting. They are now a coffee shop as well and have a wide variety of desserts, gelato and bottled beer.
The music is classic Jazz with greats such as John Coletrane, Nina Simone, Miles Davis, Thelonious Monk and other Jazz legends. No Wifi, or laptop use allowed and please turn cell phones to vibrate. They encourage more of a social club atmosphere.
In 2012, they opened a second location at Schoen Place in Pittsford on the Erie Canal.
Comments:
Note: You must be logged in to add comments
---
2010-04-02 11:13:44 I have met two of the barista's here and they were both extremely friendly and welcoming. They also made a delicious Cafe Au Lait and Americano. The coffee here is some of the best I have had in town. I am most excited though about the prospects of an amazing beer selection here. —WindyPig
---
2010-05-06 08:54:16 Great place to take a date for dessert/coffee, be sure to bring your wallet. Personally I probably won't be back since I can find a better cup of tea and dessert for better prices right down the street. The atmosphere is much different than a typical cafe, not really the place to go chill to read a book, but definitely a good place for a few people to get together and catch up. —JaimeTe
---
2010-05-26 10:02:56 Good desserts and friendly baristas. Unfortunately the baristas are treated poorly by management. I would strongly encourage anybody looking for a good desert and coffee to try one of the many other wonderful - and less pricey - cafes Rochester has to offer. Nothing sold in the cafe is made there, you will be able to find it easily at other locations. —Terisita
---
2010-06-22 23:48:19 A great addition to the Park Ave area. My friends and I have tried the gelato and various cakes there - they were all delicious. I liked the iced cafe au lait as well. The outdoor seating is great for the summer. The indoor seating is nice but it definitely makes me nervous - it wouldn't be that hard to accidentally spill my coffee all over a $12 000 piece of African art. The barista (with short blonde hair) is very friendly and answers questions patiently. Wine and beer should be coming very soon. It will be a great after dinner place for wine/beer drinkers and dessert lovers to chat without battling over where to go. —OneLove
---
2010-07-02 11:25:26 When the cafe first opened, I was a frequent customer to the cafe for a cappuccino and when feeling indulgent a dessert. The three ladies who worked there when it opened were fabulous! Their service along with the quality of bean made my espresso and experience delightful.
Unfortunately I no longer patron this establishment because of the owner's behavior. His pushy approach when behind the counter (which I'm not sure why he ever was) was a huge turn off for a place where I'm coming to relax and enjoy a good cup, not be unnecessarily rushed. Although the ladies always handled it with grace, the owner clearly had little regard for their efforts and frequently cut them off when I asked them a question about the products. One of the original ladies no longer worked there last time I was in. I'm not surprised.
I was truly excited about this cafe, however, the vibe the owner gives is just not positive to me. —ServiceConnoisseur

---
2010-07-11 17:03:34 I think the last comment is just plain silly. The owner is very nice and extremely gracious. We enjoyed a gelato and some wine this afternoon and it was so pleasant. We will be going back soon and often. —cbcritic
---
2010-08-14 17:29:30 Went to this place for the first time today and really loved it. Great atmosphere, music, and food/coffee. The staff and owner are all very welcoming. I had a very nice time studying there, and found the no laptop policy helpful, as I tend to get really distracted by the availability of the Internet when I'm working (which is why I'm writing this review right now!). We had delicious cake and very well-made cappuccinos. The cake was pricey, but then again, the slice was enormous and we took most of it home (even after splitting it). I'm excited about checking out their beer and wine selection. Will definitely be back! —AliMcGhee
---
2010-08-17 21:05:29 Hands down the best and most realistic cappuccino in town. The gelato is good, although not quite as good as Royal Cafe. The pastries are excellent, as I believe most are from Savoia. The setting is very unique and interesting. Best of all no cell phones or computers allowed! —ChristopherBrandt
---
2010-08-29 10:07:24 The gelato they serve is from Royal cafe...so it can't be less good. —LauraD
---
2011-04-09 19:55:36 Very tasty vegetarian paninis. Plus, if you order gelato to go, you get a little neon plastic cup and tiny matching spoon! So cute and you can reuse! —EileenF
---
2011-05-31 11:01:37 Great beer selection, and a wonderful location - overshadowed by an archaic no cell phone and no wifi policy. —Gordo
---
2011-06-17 18:36:46 would never go here again. the indoors dining room was swarming with flies from the flowers on the table! total turn off! —sammieG
---
2011-07-07 16:23:36 2011-07-07 I can't recommend the gelato at Jembetat Cafe. While it looked nice in the display, the taste left much to be desired. My husband and I tried the pestachio and creme brule. I also tried a sample of mango. The mango sample was ok, but the pestachio, besides having a grainy texture (as though frozen, thawed and frozen again) had very little flavor. The creme brule was similarly grainy, as well as sickeningly sweet. I spent over $9.00. —Catherine
---
2012-05-14 22:39:03 I agree with ServiceConnoisseur's comment, which is by no means silly. I've spoken with half a dozen people who have had the same thing to say about the owner of Jembetat. He is a rude and off-putting person. Has no place dealing with people at all. I was a regular customer, despite the warnings from many people about his rudeness - and finally tonight he was there while I was and was so abrasive and off-putting as to make me never want to return. The place is so often empty - even though it in the middle of Park Ave and I am sure it is because of him. He has turned off many customers, including myself. He's just, quite plainly, a dick. —ninaealvarez
---
2012-08-19 21:28:00 Speciality coffee good. The cake was really wet, I got some to go and opened it and the bottom of the container had moisture on the bottom. The cake was flavorless & wet at each bite.

---
2013-05-26 21:26:34 I work in the restaurant industry and recently saw the owner of this place act extremely rude to a couple of guys who mistakenly sat in his outside tables to eat ice cream. If you work in the restaurant industry, it's all about how you say it and this guy was just a plain douchebag. Sure, you have a right to make people aware that they're sitting in the wrong tables but you don't have to be rude, impolite and down-right condescending. I've never been in this place nor do I plan to. Go flip burgers. —laidbackdude
They have four signs basically yelling at Yolishous customers to not sit at their outdoor tables. Really, one would have been enough. Makes Jembetat look unfriendly and unwelcoming. —EileenF

---
2014-07-24 12:25:03 Be aware that the hours posted on their website and their doors may not reflect their actual opening/closing times. As of yesterday, stated summer hours for the Schoen Place location are 8am-10pm. But when I tried to stop in last night for dessert at 9:15, all of the doors were locked, even though the signs on all of them clearly said "Open" and there was at least one employee inside. I contacted the owner, who replied that they "stop serving gelato at 9 pm Wednesdays".... Which must mean that they close down the entire business an hour early on Wednesdays? So, my recommendation: call before you go to make sure they are actually open, because they might not be. —ajh