Schoen Place is a canal landing and shopping area located on the North side of the Erie Canal in Pittsford.
It is home to several resturaunts, a variety of retail stores including, and other local businesses. It is also a stopping point for canal and river day trips like the Sam Patch. In the warmer months it is crowded with people. It is possible to rent canoes, kayaks and bicycles here.
Other convenient shops and restaurants are located in the adjacent Northfield Common such as Label 7 and Pittsford Lumber & Woodshop, to name a couple.
Unique office space is also available in the newly renovated Grain Tower and Flour Mill. It is home to local companies such as iVEDiX and The Smugtown Beacon.
There is a small park on the South side of the canal directly across from Schoen Place that features free outdoor concerts in the summer.
Schoen Place was the focus of
RIT's 24th Big Shot which can be seen below.
Business Directory
Food and Drink
Retail
Other
Notes and References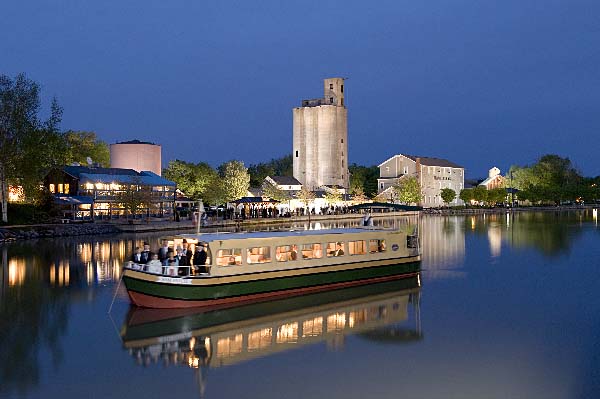 Comments:
Note: You must be logged in to add comments