Simply Crepes, Schoen Place, 04-2011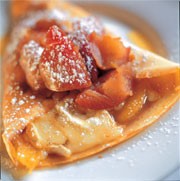 A Mouth Watering Masterpiece
Location
Phone / FAX
Accessible
Hours (as of October 2022 per website)
7 Schoen Place, Pittsford NY, 14534
585 383 8310 / 585 383 8314
No
Wednesday, Thursday, Sunday & Monday: 8:00AM to 8:00PM, Friday-Saturday: 8:00AM to 9:00PM
101 South Main Street, Canandaigua, NY 14424
585 394 9090 / 585 394 9091
Info Needed
Wednesday, Thursday, Sunday & Monday: 8:00AM to 8:00PM, Friday-Saturday: 8:00AM to 9:00PM
1229 Bay Road, Webster New York 14580
Info Needed
Yes
Wednesday, Thursday, Sunday & Monday: 8:00AM to 9:00PM, Friday-Saturday: 8:00AM to 10:00PM
Website
http://SimplyCrepes.com
Reviews
Info and Reviews on Yahoo Local
Cooking With Ideas - Canandaigua location
Simply Crepes is a cafe serving breakfast and specializing in crepes with locations at Schoen Place in Pittsford, in downtown Canandaigua at the Webster/Penfield border.
Although crepes are the main attraction, Simply Crepes also offers Oatmeal Creme Brulee. Perhaps more interesting, you can order dessert for breakfast or breakfast for dessert anytime of day. Locally owned and operated by the Heroux family of Pittsford, they attend to details and welcome suggestions at their flagship store. Recommended as a romantic dessert place, the alluring Schoen Place location on the Erie Canal is French-country whimsical and has a lovely country fireplace. Your date may fall in love, if not with you then at least with the food.
Other locations include seasonal concession stands at Frontier Field and Sahlen's Stadium that serve many of their desserts, some of their more popular entrees and smoothies. You can also find them at many area festivals including the Park Avenue Summer Art Festival, Corn Hill Arts Festival, Fairport Canal Days, Pittsford Celebrates, and the Naples Grape Festival.
Also, they exclusively use real maple syrup; the syrup is imported from a Canadian farm owned by family members of the owners.
Comments:
Note: You must be logged in to add comments
See Archive Page for comments prior to 2008.
---
2008-07-06 16:50:07 One of our favorites!! We like to go early on a Sat or Sun (7:30am or so) - quick service at that time of day. We just get basic dishes - simply strawberry, crepe rolls - but they're consistently delicious! Servers are usually good. We've been for dinner a few times as well - still good, but better for breakfast. Only had 1 bad experience in the spring - it was so busy, we sat outside and I think we got "forgotten" for a while. But I think some of the local colleges were graduating that weekend (Naz or SJFC?) so they were super, super busy. But the next time, they were right back to normal. —DGandDJ
---
2008-07-07 10:26:39 Ive only been to the downtown library location, but the crepes were delicious. Especially the dessert crepes. I cant wait to try the Pittsford and Canandaigua locations. —MrRochester
---
2008-08-10 21:18:58 I really, really, really wanted to like this place. I didn't. The eggs were very watery and lacked taste. Service was mediocre. Probably won't return. —JenniferWynne

---
2008-09-14 08:35:58 Simply Crepes is awesome! I've been to the Schoen place several times, and down town, and most recently to the Canandaiqua location. My favorite dish is the Buffalo Chicken crepe, and for desert the All American! —BRoch
---
2008-09-29 15:29:10 Expensive and pretentious. In other words, perfectly located in Pittsford. —JhirkFace
---
2009-04-10 21:36:01 I've never left full. Very expensive, however, the food is delicious. I just wish the portion sizes were larger. —ChefRamsey
---
2009-12-30 11:28:00 I took a girlfriend from out of town here and I am sorry I did. While the food was decent and different it was so over priced and the service was horrible! Our server only came to our table to bring us our meals and didnt even check on us throughout the entire visit. She was very unfriendly and she talked with the other servers the entire time. I think you can find better in rochester —jenniferh
---
2010-03-29 09:07:11 3-29-10. Simply Crepes has really turned me off, and I will not be going back. Horrible service from waitress, never came over to ask how everything was, or even fill water. Would not let me use $25 Gift Cert from restaurants.com and my birthday card that they sent me. Too top it off, a gratuity was charged for a party of six, and I feel that is ridiculous. I also am not obligated to pay a tip that I do not feel is well deserved. I asked the girl to charge my account $45, and the other $45 was left in cash. After I signed the receipt, and went home and looked on my bank, they charged me $51.97 which is the difference in tip that I felt was not necessary.I purposedly did not pay, because the service was horrible. This charge has brought to my bank and will dispute it. I also complained directly to Simply Crepes. Needless to say, it is very pricey to eat there. —LisaPalmieri
---
2010-04-19 01:15:12 I've actually gone there a lot for some reason, but it's not very good. Most dishes are overdone and under-seasoned. A few of the dishes come without any type of dressing or sauce, which is really strange. I mean, I ordered the breakfast crepe and it was just eggs and bacon in a crepe. First of all, the crepes are usually dry, but to think that they wouldn't add any accompaniment to such a bland dish is surprising. The one dish I have enjoyed is the Reuben crepe. The fried potatoes are always good, as is the oatmeal creme brulee. The desserts, however, are destroyed by too much ice cream and too much whipped cream. The desserts would be better served more simple. —ThadStevens
---
2010-05-12 15:32:12 Went to the Pittsford location last night. Although the restaurant was less than half full, the service was not good. This type of restaurant need to have good service. Seriously. If the Worst Chef in America can make a crepe, we all can. Convenience and good service are the things I need to choose to go to a restaurant that serves food I could make at home. That said, the crepes were pretty tasty. We got a traditional crepe, a strawberry crepe and a peanut butter dessert crepe. However, I was not too excited with my soup. I got a bowl of the tomato basil soup. It had something that I can only describe as tasting a lot like those horrible chicken chunks in Campbells chicken noodle soup (the cheap red label can). Ick! Who puts meat into (the usually vegetarian) tomato basil soup? Simply Crepes is a novelty restaurant that was worth trying once, but I can't say I will ever go again. —ChristineH
---
2010-05-23 06:39:21 I think I am really done with this place! There has been a desperate lack of menu creativity and the only thing that seems to be worthy of the proprietors' attention is the yearly increase in prices without concommittant improvement in food quality/quantity. I used to think that this was a gem with tasty, relatively healthy food. Now, this is a highly priced restaurant that doesn't know if it wants to be a diner, with mellow service and standards, or a place that charge $15 for a crepe with a bit of salad in it. Moving on to a place that values its customers as more than money faucets. —RocDoc
---
2010-10-19 21:02:20 I've been to the Pittsford location twice in the last few months. Both times were excellent. I have a RARES discount which gets me a free desert crepe. Add that to their unique fillings and you have a cheap and awesome meal. The only thing I would say is that the fillings would be good even without a crepe. —DamianKumor
---
2010-10-24 17:56:14 I don't understand why everyone is hating on Simply Crepes. I go to the Pittsford Simply Crepes location about 2-3 times a year. I've always been more than happy with the food. I recently took two out of state guests and they were very impressed. If I could change one thing it would be to make the setting quieter. I think the problem comes from having everyone (kitchen included) in one big room with wood floors. —RachelRobbins
---
2010-10-27 01:03:19 I've had the pleasure of going to the Pittsford location only once due to its massive popularity on the Weekend. Everything about breakfast was fantastic. —SargtGrumbles
---
2011-04-30 23:07:01 Just proposed to my gf at the Pittsford location, the owner, manager, on staff manager, and staff were all helpful and willing to do anything I asked. The food and service was excellent of course. I went to the Canandaigua one last month and had a similarly excellent experience. —DamianKumor
---
2011-05-22 21:42:05 I always want to like this place better than I actually do. I end up here every couple of years because I like the menu (really the idea of the menu). The execution ok but not great, usually bland. Even when the service is good it is just a little too far on the side of ambivalent. The biggest problem though is that the kitchen is perpetually glacial in their preparation speed.
I always walk out feeling unsatisfied with the whole experience. —RachaelT

---
2011-12-22 15:45:30 I have never posted a negative review but am so angered by this place that I had to make sure others are aware. I called Nicole (who is surprisingly part owner and handles their catering) two days ago to schedule a basic lunch for 35 teachers to be delivered. I did not reach her and left her a msg. Spoke to the staff at the Pittsford location and they said I need to talk to her. On Wed morning I called and spoke to one of the staff again after getting Nicole's vm again. She (Carolynn I believe) got Nicole on the phone and gave her the info while I was holding and I listened to the whole conversation. She said Nicole would do the lunch and will call me back a little later so I gave her the info as to what I needed...Some wraps and a dessert tray. When I did not get a call back later on Wed I was a little uneasy so I called at 8am this morning and there was, once again, no answer. After calling the Pittsford and Canandaigua locations, I finally get a call from Lisa who tells me that she apologizes but they are unable to fill my lunch order!!! Now it is 9:45am and the staff at school has not brought in lunch today, expecting that I am having it delivered. If they just told me they couldn't do the lunch initially, I would have made other arrangements. Well, fortunately I called Cheesecake Factory and the manager there went above and beyond!! He had egg rolls, a tray of pasta, a chicken dish and a salad ready for the 11 am lunch. Cheesecake Factory doesn't even deliver and he delivered it himself!!! Now that is service!!!
I would never eat at Simply Crepes again and suggest that Nicole get some customer service training.

---
2013-05-31 15:51:54 Took a group of seven to the Schoen Place location for breakfast this morning and will likely never go back. The cook and the waitstaff were arguing loudly (swearing and slamming things around), our food was spotty (half cold, half scalding) and the waitperson was rude and inefficient (didn't bring water, threw straws down in the middle of the table as if it were an inconvenience) and actually said to us "because I am so awesome I am going to split your food" to the two people whose dishes were not even started before the rest of us got ours and were coming out one at a time. It's too expensive and not interesting enough to merit spending more than $100 for breakfast in a place that doesn't value customers or want to provide good service. If I were the manager/owner I would be embarrassed. —shawnalusk