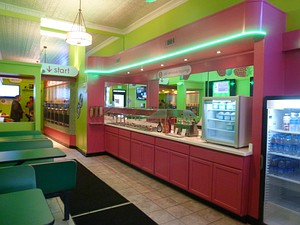 Park Ave interior, March 2013
Former Locations
647 Park Ave, Rochester, NY 14607
910 Elmgrove Rd, Gates, NY 14624
Yolishous (pronounced Yolicious) was a self-serve frozen yogurt shop with two locations: one on Park Avenue in the city and one in Gates. Toppings included fresh fruit, cereal, candy and nuts. They also served freshly melted hot chocolate. Dairy-free sorbet (not to be confused with sherbet) also available. Price was by weight. The Gates location also had a small Mexican menu, offering burritos, quesadillas, tacos, and nachos.

Park Ave had outdoor seating, complete with portable heaters for cool weather.

They opened on January 19, 2013. The Gates location opened in July 2013.

All yogurt flavors were kosher under Orthodox Union supervision. The shop itself was not under Rabbinical supervision.
On October 5, 2015, Yolishous announced they were closing with the following Facebook message:
It is with heavy hearts that we are officially announcing that Yolishous will not be reopening its doors. As many of our frequent customers know, Yolishous is a family business, and a series of unpredictable circumstances have arisen, in which it became clear that this is the best move for our family. We would like to express our sincerest gratitude to our loyal customers for their patronage and enthusiasm for the Yolishous froyo experience! We would like to thank the Park Ave and Gates communities for welcoming us into both neighborhoods with open arms; for an amazing & exciting 2-3 years in business! We hope to have brought happiness to those who have visited our establishments in the past. Thank you, thank you, thank you for all your business and the great memories.
Comments:
Note: You must be logged in to add comments
---
2013-01-27 17:28:59 Awesome place! The frozen yogurt tastes JUST like ice cream but is still good for you - unless you load it with too many of their candy toppings. The service is very friendly and I love what they did with the interior. The colors are very bright and cheerful. —EileenF
---
2013-02-06 17:31:22 Being a Pinkberry lover (and yogen fruz hater) I was excited to try this place. And it is EXCELLENT! I like how you can mix different flavors of fro yo and there are many toppings to choose from. The fruit was fresh (not soggy I HATE that) and the service was super friendly! I will definitely be going here again! —jcs3636
---
2013-05-31 15:56:43 Phenomenal. The selection of flavors has something for everyone and they rotate them daily. The service is friendly and the owner's wife came out to thank us for coming. The toppings are fresh (as mentioned above) and they have a huge assortment of choices. It's not inexpensive and you do need to be careful because the toppings quickly add weight (which = cost). For seven of us (four college students) it was about $36 but we were all full and VERY happy afterwards. Hope they stay around! —shawnalusk
---
2013-09-05 11:03:11 Found out my old manager owns the place, small world I guess. Glad to see the good reviews. —Damiankumor