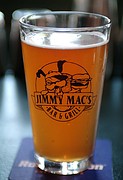 Beer at Jimmy Mac's. Nice glasses.
Former Location
104 Platt St, Rochester, NY 14614
Status
CLOSED May 2009
Jimmy Mac's Bar and Grill was a bar and grill at High Falls right next to the bicycle and pedestrian Pont De Rennes bridge, Jimmy Mac's featured standard bar fare, darts, Keno and other lottery games. On the second level was the main restaurant and bar area, where old pinball machine boards decorated the walls. In summer, a balcony overlooking the scenic High Falls, the bridge and gorge opened for dining. Live music played on some Saturday nights.
Comments:
Note: You must be logged in to add comments
---
2007-01-27 14:16:58 I had lunch here today and the food was fast, cheap, and good. Unfortunately, we had to wait 15-20 minutes for our check and then waited another 15 minutes before finally going up to the bar to pay because she never came back to take our money, and we were the only people there until one other couple showed up towards the end! I enjoyed the food, though, and the atmosphere is nice. I'll be back, but I hope the service improves a bit. —RachelBlumenthal
---
2007-03-31 23:07:02 I've been here many times, good food, decent liquor selection and I love the generous number of "buy one get one" meal coupons in the local discount book. You can get a decent view of the falls and the laser light show. —TravisOwens
---
2008-04-21 10:10:55 Typical dive bar with a townie feel to it. Good pub grub. Perfect in the summer when checking out High Falls.
Watch out, on Red Wings game nights can be packed. —MrRochester

---
2008-12-03 18:07:17 The beer selection? Meh. The food? Meh plus. The nachos? I'd stab anyone who got between me and the plate. They are delicious with the chili! —BatGuano
---
2009-04-26 20:58:35 Good prices, good fries, cool views of the falls, but only fair selection of beer. Not busy on a Saturday night in April? —bjnlbn
---
2009-06-03 07:44:15 Word on the street is that this place is closed permanently. —BatGuano
---
2009-06-18 10:45:56 I tried to go there last week and they were doing construction. I talked to one of the workers and he said they were closed temporarily but didn't give a timeframe. It looked like they were doing renovations. —MichaelKrauklis
---
2009-07-01 11:42:52 I stand corrected, there are two big Nothnagle "for sale" signs on the building and there's no more construction activity. Single tear.
*** Seems to have closed in May of 2009 ***
—
MichaelKrauklis
---
2009-07-14 14:34:45 Confirmed. Closed for good. —MattConheady