Former Location

LDR Char Pit Interior

4753 Lake Ave., Rochester NY, 14612
Status (as of 2021)
Closed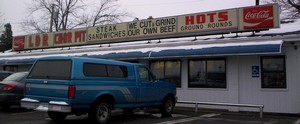 LDR Char Pit, Lake Ave, Rochester NY
LDR Char Pit was a restaurant on Lake Avenue that opened in 1945 and is named after the initials of the founder's three children.

A roadfood.com review by Stephen Rushmore, Jr. features pictures of the famed steak sandwich and describes the sandwich as a grilled single slice of beef (as opposed to the steak sandwich available elsewhere consisting of shaved beef cooked on a griddle.) The sandwich is "a seasoned, lean steak sandwich that is so tender that adding condiments would only downgrade the experience." The reviewer gave LDR Char Pit 10/10 for visiting again, 10/10 for food, 9/10 for atmosphere, and said that it is worth driving up to 60 miles to get there.
Photos
| | |
| --- | --- |
| | LDR Char Pit Steak Sandwich (by Flickr user warthurton license info) |
Comments:
Note: You must be logged in to add comments
---
See Archive Page for comments prior to 2008.
---
2008-02-21 22:48:58 If you go to LDR, in my opinion the reason for being there is the char-broiled burgers. When they're going at it, the place has all kinds of smoke coming out of it. One of the best burgers you'll ever eat. —ChipBarbre
---
2008-04-11 14:08:10 My husband and our friends got burgers, they rocked. I had to be different - I got BBQ. The meat was good but why why oh why did someone put alphabet soup on top? Seriously, that's what it tasted like! Waaay too tomato-ey, must have poured like water and there were vegetable chunks reminiscent of alphabet soup. I'd definitely go here again but NOT for the BBQ. —StephanieTodd
---
2008-05-18 13:23:32 For those of you looking for bar-b-que; this is not the plase for that!!! This is for awesome burgers, our charred local Zweigles hots both red and white (unique to Rochester) and the famouse steak sandwich which is the best in town if not state!! Not a Philly Cheese steak; it's a lean piece of steak cooked the way you like it on a hard roll. The best thing they have!!! And don't forget the center cut fish frys and fish sandwiches on Friday. To whoever didn't like the onion rings....to each his own. Personally we love them. We are locals and this is where locals come for burgers, dogs and steak sandwiches; even breakfast; but NOT bar-b-que!!!! —suzieq
---
2008-07-20 17:15:38 The steak sandwich. Just bread-meat-bread. The roll is warm and buttered, the steak is perfectly seasoned and cooked exactly how you ordered. Simple is delicious. —ZachSmalt
---
2008-09-29 15:53:50 There is no way that LDR Char Pit can claim the best steak sandwich in Rochester or especially Philly. I never heard of the place despite being a native Rochesterian, but I went there last week. I was expecting a big, tasty sandwich. It wasn't terrible, but when the server brought it to me, I was thinking, "That's it?". Campi's is MUCH better, and you leave full! —Tyrone
---
2009-03-25 20:37:01 My fiance, her family and I went here for the first time tonight. Walking in, I immediately liked the atmosphere. It's just an old time burger joint that takes a ton of pride in the meat it slaps between bread. No fuss, no muss. I got the steak sandwich and left it plain. My 1/4 thick steak arrived between two buttery rolls. It was very tasty and delicious. I wish I had ordered another. If I lived in the area, I would stop at LDR regularly to eat these things. —BatGuano
---
2009-05-27 08:41:44 After years of hearing about LDR off and on, I finally got to go in March of this year. I have fallen in love. The steak sandwich is so amazingly good that I cannot get the taste out of my mind. I find reasons to go up to Charlotte far more often than before. As one review said, avoid the temptation to put anything on the steak sandwich. A roll and a steak is all that is needed. In the winter they have soup that is a good complement. Finally, unlike so many restaurants, LDR constantly keeps a pot of my favorite beverage on hand (decaf coffee - due to my caffeine problems). It is the complete package. I just decided to go back for lunch today. —WayneArthurton
---
2009-08-17 16:16:27 I absolutely love the Char Pit and am there most Friday nights in the Summer for the Famous Steak Sandwich, but beware of the Italian Sausage (link) it is not high quality and had several tough/hard un-chewable bits, not too mention not much flavor. They really need to get a better supplier to go along with their other high quality and delicious products. I also have to say I love thier fries with their crunch outside and soft inside. —CreamAleDrinker
---
2010-07-10 15:17:51 Burgers are incredible, the homemade onion rings are the best in the city (better than Schaller's) and the fries are awesome too. I have been eating here for years and have never been disappointed. In fact I have eaten here twice in the last month and it's always consistent and good. It's a classic place that you will not find in too many other cities/towns. —CJM8232
---
2014-06-07 09:11:41 My grandparents first took me to the Char Pit during the early 1980s and I have been hooked ever since. Bar none, I feel they have the best grounds/steak sandwich, onion rings and hot sauce around. The Delmonico steak sandwich is always my go to sandwich. That being said, I have had some tough steak served to me during the past few visits. Ownership has changed during the past few years and I hope that is not the issue. Still, I always look for an excuse to have lunch or dinner there —bayton
---
2022-01-07 10:31:21 This was one of my family's gathering spots when we had a reunion. Many happy memories.