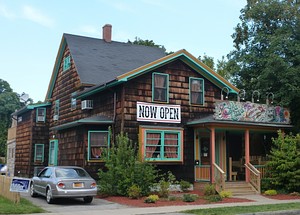 La Casa Restaurant is a Mexican restaurant in the South Wedge. They serve brunch on Sundays. Outdoor seating available.
La Casa opened on February 25, 2013. It was co-founded by the owners of La Placita Mexican and Lyjha Wilton of Wilton Enterprises and Boulder Coffee Company.
Controversy
In May of 2014, the La Placita people filed a lawsuit against Lyjha Wilton. It alleges that he had approached them as an investor and promised to turn the restaurant over to them, but instead maintained ownership and forced them out after the business became popular and they were detained for immigration violations. 1 Wilton has countered by saying that they refused to uphold their end of the agreement, left the business voluntarily, and refused to enter mediation in an attempt resolve the matter, instead deciding to sue. He also alleges they misled him by saying they were in this country legally. The couple faces possible deportation in July.2
Photo Gallery
Admin note: This page has been locked for editing.
Comments:
Note: You must be logged in to add comments
---
2013-02-25 14:38:32 I love that paint job. —EileenF
---
2013-03-02 13:45:35 Visited here for lunch with coworkers and we all had a fantastic dining experience. They make the guacamole right at your table and the horchata is refreshing and delicious. Best huevos rancheros around. —TrishHeckmann
---
2013-03-02 13:51:46 Be warned, they aren't open for lunch on Saturdays. Went there with a group of friends to find locked doors. The owners are running La Placita (inside Boulder at the public market) on Saturday mornings from 6am-2pm, but La Casa will be open for dinner on Saturdays. —TrishHeckmann
---
2013-03-02 17:30:25 Wonderful dinner on Friday night. We have been fans of these folks for a long time at the Public Market. Very excited that they have opened their own place. They did a great job remodeling the house into a restaurant, it's looks awesome inside. They do not have their bar license yet so no alcohol but they are working on that. The food was great (see photos). The service, considering they have only been open for a few days, was really very good also, and we're certain it will get even better as things fall into place. Nice to have another quality option for Mexican food in town, especially in a great neighborhood like the South Wedge. The Tortilla Soup, a special the night we were there, was amazing (if they have it when you visit, make sure you try it) —DottieHoffmann
---
2013-03-20 08:16:58 Great decor inside, nice to see a new Mexican restaurant in Rochester. Service was horrible. There were only a few tables in there when we were there, but our waitress rushed us like she couldn't wait to get us out of there. Offered to clear our plate 2 times while we were still eating, asked for our dessert order while we were still eating dinner, then handed us our check while we were still eating our entrees. Guacamole was good, made tableside, although the waitress couldn't get any lime juice from the lime into the bowl. She also asked us if we wanted more chips with our guac which was odd considering our chips were empty - were we going to eat it with our hands??? Of course we want chips with our guacamole! She also had failed to serve us silverware. Food was good, not great. I had the fish tacos which were good but not authentic - they were served with tartar sauce instead of a lighter sauce like they do in San Diego. My husband had the carnitas which were very good. The chips served with the salsa and guac were also VERY good. Overall, this place needs some work (mostly service) but has great potential - we will try again when they have their liquor license and the nice deck out back is open. They did a great job with the renovation. —goldengirl217
---
2013-03-24 15:51:32 We went last night; it was good, not great, but good. It was friendly but not fast service, fresh food but by no means large portions nor reasonably priced—reasonable portions and priced ok. Both the waiter and waitress kept forgetting to supply utensils (for our party and other parties seated near us) so I guess this isn't part of their table clearing and set-up yet. Until they get better lighting upstairs (even one floor lamp would suffice!) do yourself a favor and sit downstairs. Waiter sat us and said our server would be right with us. Took a few, but she finally made it upstairs to take our orders with no announcing of specials, no choices, nothing. Not until the waiter took the table next to us did we hear that there were two salsas, actually only one and a green (tomatillo), and a soup and other things our waitress completely neglected to mention. It was sort of cute to hear the waiter says rel-LEN-no instead of rey-EN-yos. Relleno was great, awesome chips, mole was tasty, pollo asada needs mas pollo (than the one small breat supplied for that price), and a bit more inexpensive arroz y frijoles would be nice. Cool interior and touches (wall texture, colors, menus), they're serving beer now (and a pretty good horchatta), glad it's in da hood, and we'll try it again. Hope they settle into a bit better groove. BTW John's is Tex-Mex, ppl; this is Mexican. —URalum
---
2013-03-26 19:02:07 Just went here for the first time with my girlfriend. Had the Enchiladas de Mole and a bowl of zucchini cream soup. Devoured everything - delicious. Girlfriend had only dessert (ice cream on a tortilla thing, forget its name), and loved it. We will be coming back here again and again. Props for having Boulder coffee there, too. —bammerburn
---
2013-05-29 09:48:12 Went here for dinner on Tuesday night. The decor was very nice and the atmosphere was great. Had reasonable expectations walking in. Once we were seated we realized the chips and salsa were not coming so we ordered the guacamole. That was very good. The salsa never showed up so we asked if we could have some, and they now charge $0.99 for it. Awful. I am sure charging people 99 cents for salsa will make people more upset than worth their expense at supplying it for free. Anyways that was just the start. The side plate of beans and rice arrived cold and the portion size of the meals was quite small. Overall this place appeared to be great from the start but fizzled once the salsa was an additional expense and the food was below average. Wont be going back. Unfortunate becuase this place had promise. —NGio
---
2013-06-13 09:50:12 A friend and I went last night. The guacamole was excellent, but otherwise, our vegetarian meal was astonishingly bland. The vegetarian burrito was not quite as flavorful as refried beans in a tortilla — it seems they may have forgotten to add the pico de gallo sauce. The tofu on the tacos was completely flavorless. We spoke with a manager who said they would work on improving the food quality. Nonetheless, there are far better options in town (John's Tex-Mex, for instance, is far superior and just around the corner) — at least food-wise. The decor was pleasant and inviting, so perhaps guacamole and drinks would be an option here. —JasonOlshefsky
---
2013-06-15 14:09:34 Vegetarians BEWARE! Nothing on the vegetarian menu is actually vegetarian, unless you consider adobo / chicken stock to be vegetarian. —PebbleWiki
---
2013-06-17 17:38:14 Hi, as the daughter of the people who run the kitchen at La Casa, I would like to clear up a few misconceptions.
1. Adobo is NOT chicken stock it is a form of garlic powder that has salt and pepper mixed into it as well
2. Our Vegetarian Menu was created by a person who is a vegetarian
3. If you are very concerned about what you are eating we are more then glad to give walk throughs of the kitchen and everything that we use...
for any questions and or comments please email me at Lacasarochester@gmail.com Thank you —cassandra12510

---
2013-07-06 22:34:04 So close, yet so far.  Tonight could have been one of those wondrous summer evenings, but we decided to give La Casa another try ... and missed that opportunity.  Their (new-ish) outdoor deck? Really nice.  Live guitar music?  Great.  Weather?  Perfect ... to dine al fresco!  But that's where the good news stops. It was unbelievably buggy in their area, so they may need better garbage management and plantings that repel pests.  But food is the most important feedback here, so:  Guac was lack-luster ok, but wE are those aforementioned people who believe the good will of chips and salsa will set the atmosphere, and we had no idea they now charged for them ($1.99).  If a cost is needed, inform your customers!  We asked for a refill on both (still not knowing of the charges and again not being told), and $4 is not worth "the bad taste left in our mouths" over it.  Entrees were not worth mentioning, except as a main dish two small tamales does not measure up.  And I swear all the portions, especially of rice and beans on the side, have gotten even smaller! (see my previous post).  So disappointing. —URalum
---
2013-07-09 21:41:13 Enchiladas mole were disappointing (Maria's Webster mole sauce has me spoiled). Ingredients seemed fresh but the beans and rice plate was all cold. I tasted the guacamole of someone else in my party and all I could taste was hot. I love avocado and was disappointed with the guacamole. The busboy was very attentive with the water.
---
2013-09-08 00:59:18 We had a different experience at La Casa than most of the reviewers on here. We went on a Saturday night, 9/7/2013, at about 9pm. Everything was 100% positive, from the attentive (yet not pesky) service, to the perfectly-mixed cocktails (little did I know that it IS indeed possible to mix a Mai Tai that isn't sickeningly sweet!), to the flavorful cuisine. I had the napolitos, and my companion had the enchiladas mole; both were quite tasty. Portions and prices were, in our opinion, fairly matched. Neither my companion nor I walked out feeling underfed, but nor did we feel disgustingly full— and this is what we prefer in a restaurant (aka no leftovers but no need to get takeout afterwards). The only possible suggestion I have goes along the lines with what other reviewers have said, ie maybe La Casa could display a price on the menu for the chips and salsa (because they are assumed to be free at many Mexican joints). We didn't miss the chips and salsa at all— but, that being said, we may have ordered them in addition to our meals, if we had known they were only 2 bucks. All in all though, a fantastic experience— we will DEFINITELY be back! And hope that someday their bar area will stay open late-night, because their cocktails are not only great, but it is such a pleasant environment in summertime, with half of the bar opening up to the outdoors. Two thumbs up to La Casa for giving us another option for delicious (and fairly healthful) Mexican-inspired cuisine in Rochester! :-)
---
2013-10-13 11:03:10 I think this place drew a big crowd at first because of its location in the South Wedge. I've been three times now, and I noticed last night that there were many fewer people this time around. I think it's ultimately because the food isn't as great as it could be. The carnitas are pretty good; the enchiladas (verdes and rojas) that we had last night were a little bland. They go pretty easy on the spices. I'm guessing the plates of rice and beans are made in advance because all of ours were pretty lukewarm. On the other hand, I would definitely go back for the bar — the margaritas were good. But for food, I'd rather go to Agave. —MadameTartine
---
2013-12-16 14:15:56 We dined last Friday evening and had a short wait at the bar until a table became available. The selection of draft beers is not extensive, but they had a couple nice ones. Service was prompt and attentive. We really enjoyed the flavorful, slightly-smokey salsa that came with the chips - and we were not charged for either. My enchiladas verde were very good and were a reasonably-sized portion with the two kinds of beans and rice/peas on the side. If I was being picky I would say that the whole black beans were a bit underseasoned. My wife enjoyed her tamales puerco, although again the masa in the tamales was underseasoned. The meal ended on a high note with the dessert of the day, churros y chocolate. Sinful fried churros with several dipping creams, and wonderful Mexican hot chocolate on the side. A great treat on a Winter evening. —jgerek
---
2014-02-10 18:59:06 I am a chef, a Californian, and of Central American heritage, so naturally, I am always interested to see another attempt by the fine city of Rochester to deliver not only authentic, but correctly prepared Mexican and Central American cuisine. Unfortunately, after waiting fifteen minutes on a Tuesday (five to be acknowledged, another five to be seated, and five to receive room temp waters with no flatware and no menus), I looked around to see a half empty restaurant and told my wife this was unacceptable and we f****d off to NAPA wood fired pizza across the street, so I have yet to experience the food, but I'm sure based on the service and the occasional good reviews from my east coast Caucasian friends (who have no solid basis for comparison), its just another boring attempt at making Tex Mex pretentious to appeal to the cool kids. So far the only Central American food I have found in my years here is Paula's on Culver road. They are from Central America so the menu they offer is 100% Mexican/Central American. This family does not sell the poor imitations made by other Latino groups who aren't comfortable serving their own rich, flavorful, and delicious fare to all the hip taco junkie 22 year olds that make up the Latin food customer base in this town and they certainly don't serve any of the Tex-Mex or "fusion" crap that passes for good Mexican food in most of America. If you have ever wondered what a real burrito tastes like avoid the throng of misled impostors like La Casa, Salena's and John's. Better options exist. PS: Adobo is not Mexican. Its Spanish by way of Puerto Rico. —SteveAngry
---
2014-02-13 15:27:53 Cool, a review by someone who hasn't actually eaten there. The faux-know-it-all snobbery and derisive dismissal of anyone who might have a different opinion is a nice touch. Really ups the "cred". Bravo AngrySteve. —ErikReinert