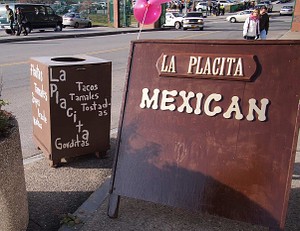 La Placita Mexican at the Market, Dec 2011
Inside Boulder Coffee at the Market, Dec 2011
New Digs, Dec 2011
Former Location
Public Market, Inside Boulder Coffee
La Placita Mexican served Mexican for breakfast and lunch at the Public Market. These were the folks who used to run Monterrey Mexican out of the back of the market space next door; then they moved into the back area of the Boulder Coffee shop.

On February 25, 2013, the owners opened La Casa Restaurant on Alexander Street. Unfortunately, this resulted in a lawsuit and other legal trouble - see the page for more detail.
Comments:
Note: You must be logged in to add comments
---
2011-12-29 17:21:58 Same nice people, same yummy food. We actually think that the seating is nicer here than it was in the last location next door. Make sure to go visit !
---
2013-01-07 00:34:46 As a Latino from L.A., I can say their food is among the best in Rochester. Love their Pozole!
---
2013-12-14 10:52:31 As of Dec 14th the restaurant at the Public Market seems to be shut down. No information, no sign. Maybe they have consolidated to the Restaurant? —DottieHoffmann