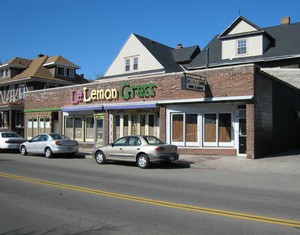 Le Lemon Grass Monroe Ave 3-2008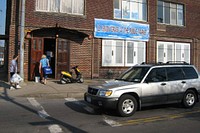 New Market Location, almost open, 4-2008
Former Locations
942 Monroe Ave, Rochester NY 14620
287 Union St N, Rochester NY 14605
Status (as of 2011)
CLOSED
Phone
585 271 8360 (Monroe Ave)
Le Lemon Grass was a Vietnamese restaurant on Monroe Avenue as well as the Public Market. For the past year, the status of both locations have been a mystery to many. Their phone number always led to a voice mail identifying itself as Le Lemon Grass, but nobody ever answered.
As of June 18, 2011 (per latest comment), former fans of Le Lemon Grass can enjoy a kiosk open market hours on Saturdays with a limited menu in the inside shed in the Public Market across from DiPaolo bakery counter.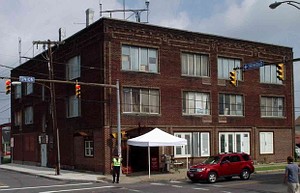 Union Street Location, open, 6-2010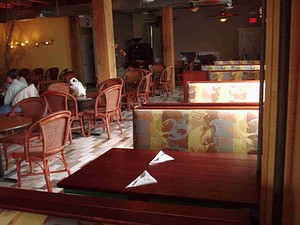 Union Street interior, 6-2010
Comments:
Note: You must be logged in to add comments
---
2006-01-23 20:05:00 This is a good restaurant. Stir-fried Noodles and Pho are around $10-$15 and the specials are $20+. Very flavorful. —BenMargolis
---
2006-11-03 23:33:29 are they closed?? —OneLove
---
2007-03-23 08:31:05 Is this place even still open? It always looks closed. —KimBee
---
2007-03-23 09:12:38 I drove by last sunday night, and the open light was on, so I don't think it's closed. —BenMargolis
---
2007-04-08 21:52:48 Expect to eat alone or just with your company.. You won't any other soul there besides the owner herself. The menu consists of normal foods that I would eat at home. I expect to eat something more special when I come to a restaurant, since I am Vietnamese.
The foods on the menu were TOO $$PRICEY$$ for TOO ORDINARY dishes. I would recommend Pho Duong Dong on Otis Street. —HuongTran

---
2007-11-10 15:30:15 I wouldn't mind trying this place out, but it always looks abandoned every time I drive by. —CatMagro
---
2008-03-29 16:07:17 Walked by today, no hours posted, really looked closed? Anyone know? —DottieHoffmann
---
2008-03-29 19:38:10 I heard they just serve at the public market on weekends, anyone know? —KimBee
---
2008-05-11 12:19:47 My husband and I stopped in to the Public Market location today for lunch after some Flower Day shopping. First of all, the interior is beautifully decorated with a nice drop beam ceiling and tranquil water wall in the middle of the space. We were warmly welcomed in to be seated and the owner provided a menu and some details about the dishes offered. My husband ordered a Vietnamese Coffee (very rich coffee drink served hot or iced with sweetened condensed milk stirred in) and I had a fresh squeezed lemonade, for our entrees I ordered Chef's Special with chicken (choice of chicken, beef, pork, tofu or veggies offered for all dishes) and my husband had the beef combo Pho. The food was excellent, the ingredients were all very fresh and perfectly cooked. Our bill for a this great lunch came to $21 before tip, friendly service included. FYI: they don't take credit cards! This place is open 7 days a week at this location and we'll be back for sure! —StephanieTodd
---
2008-05-16 16:24:01 Just to clarify - the Monroe Ave. location does take credit cards. —JustinSherrill
---
2008-05-18 11:38:37 Le LemonGrass is now serving Dim Sum at the Public Market location on Saturday and Sunday. I had the Dim Sum this morning and it was delicious. Recommend the pork shumai and the chicken potstickers. —KimBee
---
2009-01-15 15:25:11 The quality of the food is excellent. Perhaps the most well-prepared vietnamese in Rochester besides Mamasan's. However, the prices are a bit high. In the summers they'll open the shutters and let the breeze in. Nice beer list as well. I ordered a big bottle of Ommegang Abbey ale with my meal last time I was there. Don't let the outside appearance (abandoned) deter you. It's quite warm, clean and lively inside. —ErikReinert
---
2009-02-14 14:17:24 Tried to go there for dinner around 7 pm on a Friday evening (February 13) and all the lights were off; it appearred to be closed. —AJH
---
2009-07-11 13:19:37 Had great Vietnamese crepes for dinner yesterday at the Monroe Ave location. At first we thought it was closed, but we're glad we went in. —NoamZeilberger
---
2009-12-25 15:43:45 We've gone three times, during the week at lunch time, on Saturday afternoon and Wednesday evening at 7PM, and it's never been open. I love Vietnamese food and I'm fascinated by the number of people who say they've eaten at Le Lemon Grass. Maybe it's by invitation only? Anyway, I've given up. —christopher0312
---
2010-06-05 14:09:18 Had the Beef Pot Stickers ($3.25) at the "Le Lemon Grass @ the Market" Union Street. Delicious, 5 in a serving, small, but OK for a snack. With a sweet soy sauce dip, crisp on the outer edge and soft inside, nicely spiced. Note that this is really a Chinese food part of the menu, not the Vietnamese. —JackGreenky
---
2011-06-21 14:19:03 Although the Monroe Ave and corner of N. Union/Trinidad street locations are in question, (as of last Sat 06/18/2011) they still have a kiosk open market hours on Saturdays with a limited menu in the inside shed in the Public Market across from DiPaolo bakery counter. —jjjingleheimer
---
2014-04-05 15:07:51 I talked to the guy today at the public market. He hopes to reopen the restaurant sometime within the next couple of years. —EileenF
---
2017-11-27 15:21:36 It appears that this space is opening up again as something new soon. —DE