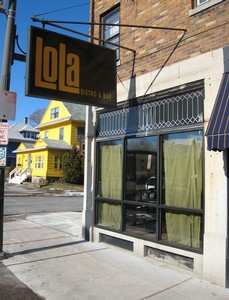 Lola 2-2008
Former Location
630 Monroe Ave, Rochester NY, 14607
Status
Closed as of September 2015
Lola Bistro & Bar: The candlelit bar and preference for cocktails over beer made this place as classy as they go on Monroe Ave. The bar was up front with a dining area that extended toward the back of the building. The bar crowd tended to be an early one, with most people dispersing for other clubs as the night wore on. The bartenders weren't particularly friendly, but they would make you a strong drink!
They closed in September 2015 and left the following message on Facebook:
Hello friends of Lola Bistro and Bar! Words cannot express the level of support we have had from everyone in Lola's long tenure, but soon we will be reopening with a new concept and design! Please stay tuned for updated as construction is going on now! We hope to continue our long term relationship with our dedicated patrons!
They reopened two months later as Turcott's.
Comments:
Note: You must be logged in to add comments
---
2007-08-20 21:19:41 Just ate there tonight, and it was really disappointing. The "fruit and cheese plate" was squares of cheddar, monteray jack and swiss that you could get at wegmans on a plate for your office party, with a couple of slivers of cantaloupe. The menu described the antipasta plate as having prosciutto; instead it was cheap salami. Both the antipasta plate and the fried calamari included tons of sliced banana peppers—still more déclassé.
The atmosphere here is awesome—lots of candles, intimate and cozy. I just wish they would get their act together, food-wise. Still, it was a Monday night and it was dead, so I'll give it another chance. —ElizMazz

---
2007-08-30 11:50:41 Lola is a great place for happy hour or pre bar drinks. It currently is one of the nicer bars in the Rochester area.
The food here is ok, Ive never had a bad meal, but Id rather just go for a good beer.
This is a trendy bar that serves food. —MrRochester

---
2007-08-30 17:02:10 I have not eaten there in over a year. We had the goat cheese salad—I can't remember much about the salad except that it features a fried ball of goat cheese and it was great—much better than my description conveys. We also had a raw tune appetizer that was very good but I do not believe is on the menu anymore. I have friends who have been less than impressed with their meals, maybe we got lucky. —BadFish
---
2007-10-18 08:13:02 New Chef back in the kitchen as of 3 weeks ago - ate there last night and it was excellent. Pasta with marinara, Duck quesadilla, Wild Mushroom pizza with Tallegio, Gnocchi with pumpkin, Beef Satay in spicy peanut sauce, and finally..a calamari salad with peppers done correctly. A remarkable 180 for a place that has never really committed being a restaurant "first". Service still is so-so, I would recommend eating at the bar. Fri are a little crowded but last night (wed) was perfect. —GordonAnderson
---
2007-11-18 00:06:37 My wife and I ate here a couple of weeks ago. The atmosphere and menu is fantastic, but too bad they couldn't deliver the goods. My wife's pizza was burnt on the bottom and a portion of my chicken french was flat out raw which, unfortunately, I didn't notice until I was nearly done with the dish as the lighting was very dim. There's nothing wrong with dim lighting, it's just that I maybe had a bite or two of the raw part before I noticed it. While they comped the chicken french, worries of salmonella poisoning definitely cast a pall on the rest of the evening, and I didn't appreciate the defensive and minimizing position the manager took on the issue. They should have comped the whole bill, as food poisoning is no laughing matter. Fortunately, I was OK. I'm sure this was just an isolated incident, and despite all of this, I wouldn't dissuade you from going, just be careful. —MichaelPeter
---
2008-01-17 16:43:33 A friend and I took our significant others out on a Friday night, reservations. First of all, we were seated directly against the hostess station looking into the hallway for the bathrooms. Unreal how bad that spot is. They turned the lights down so low we couldn't see what was on our plates. We stole 4 candles off the hostess station which did little good. Second, I ordered the tenderloin along with my friend's wife, both of which were absolutely *charred* on one side, and the au jus was burnt as well. My friend ordered the mahi mahi which was so over seared that he couldn't cut through it... —PersonFace
---
2008-01-17 16:43:54 ...Third, our server was *so* unattentive that when our bill came we decided to tip based on service. We felt completely justified leaving her $1 per person for her service that would be questioned even at a truckstop. We sat without water, without wine and without having a chance to ask for butter which was needed at the beginning of the meal. So, there you have it, if you want to go and hang out and drink some wine with some friends and have an appetizer, go right ahead, but don't go here and expect to sit down and have a nice dinner, they were incapable of delivering on so many levels. —PersonFace
---
2008-02-16 17:55:15 Have to agree about the food. So-so at best. But as far as a place to go have a drink, its great. Good atmosphere, good drink menu. Nice place to take a date for a drink, but like i said, dinner leaves something to be desired —DrKennethNoisewater
---
2008-03-29 15:57:09 Great atmosphere but the food is terrible. Pizza and quesadilla were both dry as dust with not quite that much flavor. There were 4 at our table and no one could eat their meals. It may be OK for just a drink. —JamesPatrick
---
2008-06-02 01:46:46 This place was great a couple of years ago, but I think they changes chefs. Mediocre cooking now. My last time there I ate a pasta dish too salty to even finish and I'm not exactly a picky eater. The menu has definitely changed, too. They used to have interesting specials, but now it's fairly typical Italian pub food: pizza, pasta. No draught beer, which to me makes no sense. They should at least have Stella, Guinness, and an amber ale on draught. The s'mores plate looked interesting, but I wouldn't bother to go back here to try it. I predict they'll close soon if the management doesn't wake up, hire a better chef, offer draught beer (with beer specials, you fools!) and bring back the fun specials. —MariahBetz
---
2008-06-23 17:52:53 This place has gone down hill...fast. Went here last wednesday in hopes that it had changed. NBo such luck. The owner/sometimes hostess can be very rude with drunk friends surrounding her at the bar after the dinner rush. Nice atmosphere though. —NicoleBrown
---
2009-04-25 14:54:44 What has happened to Lola's? It used to be one of my favorite places for a nice dinner— especially for birthday celebrations with friends and other special occasions. Now the kitchen appears to be closed, and there have hardly been any customers at the bar the last two times I have visited there in the past month. It's no fun to be at a bar without any other people! And because of the scarcity of customers, the bartenders just text on their cellphones all the time. I won't be going back anytime soon... —OxfordWriter
---
2009-05-15 01:13:52 I've never eaten here (and don't plan to, based on the reviews), but I can say that the bartenders here can be a little rude and inattentive. It's too bad, because the place does have a chill, quality atmosphere. —JohnHavard
---
2009-05-20 14:19:29 i mostly like this place b/c of the ambiance. it's a trendy martini bar with a cool/mellow vibe. never had the food (at this point probably never will) but i have no complaints about the general atmosphere or drinks i've been served. —Leisel
---
2009-10-29 22:13:51 Where do I begin: Let's start with - stay away if you know what's best for you...
I. Poor service
II. No wait staff
III. Unethical business practices - check your bill, statement, and menu prices - known to alter credit receipts and charge more than authorized
If I can share anything, this place is an all around bad scene. —AnteBellum

---
2009-12-04 17:51:45 Never eaten here, and don't plan on it. It is good for one thing only! Stellar Martinis 2 for 1 before 7. —Nikkrey
---
2012-08-19 19:53:50 When it comes to bars on Monroe ave this is the most disappointing. While it dose succeed at having a great corner location and and pleasant Decore, it fails miserably at everything else that would keep patrons returning, the bartenders here are very arrogant and feel self entitled to hefty tips even after under poured drinks, heavy sarcasm and general inattentive service was the only thing they did consistent. The lay out of Lola is awkward no one ever knows where to stand its a long skinny hall way with an unnessacary church pew against the wall that no one would sit in unless you enjoy being eye level with people's bum's, more power to ya if that's your thing. Most Rochestarians treat Lola as a launching pad for thier night 1-2 drinks before venturing on to the more exciting establishments up and down Monroe ave. With some new tactics Lola would be a wonderful dressy casual cocktail bar, but unroll then keep walking —Naeso