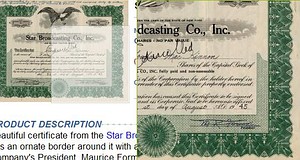 Screenshot - Forman's signature as President on Star Broadcasting Certificate from 1940's Maurice Forman was the son of Benjamin Forman, founder of B. Forman's, and co-developed Midtown Plaza with Gilbert McCurdy. Forman was chairman of B. Forman's unitl it was merged with McCurdy's in 1968.
The Forman family also owned and operated Star Broadcasting Co. They owned the WTLB and WROC radio stations, as well as some others. 1
NY Times Obituary

"Maurice R. Forman, former chairman of the B. Forman Company and a major donor to the Rochester Institute of Technology, died on Saturday.


He was 88 years old and lived in the Rochester suburb of Brighton. The precise cause of death was not available.


Maurice Forman and his brother Edward joined their father in running the business after World War I. Mr. Forman became chairman in 1953 when Edward Forman died.


Mr. Forman was a graduate of Lehigh University. He was a member of the Board of the Federal Reserve Bank of New York City for many years and worked for numerous civic causes.


He was a trustee of the Rochester Institute of Technology for nearly 20 years and played an influential role in the university's move to its current campus in suburban Henrietta.


He never disclosed his wealth, or how much he donated to R.I.T. or other local charities, but he was regularly mentioned as one of Rochester's richest citizens.

" 2
This entry is a stub, a starting point for writing a full entry. You
can help RocWiki by expounding it! Just click the "Edit" icon above.
Comments:
Note: You must be logged in to add comments