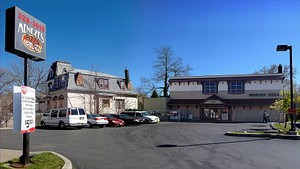 Menezes is a husband-and-wife owned pizza and sub shop in the 19th Ward on Chili Avenue just east of Thurston Road. Their menu (which includes salads), along with coupons and directions, can be found on their website. They've been in the 19th Ward since 1986. A 2003 renovation of their facade brought the shop exterior in line with the rest of that portion of Chili Avenue.
You can get delivery or take out, but you can't eat in the shop as there is just enough floor space for the customers who are paying and picking up. The counter is high, but staff can assist customers in wheelchairs.
All major credit cards are accepted and the owners are strong supporters of the 19th Ward Community Association.
Photo by John Boutet (2012)
Comments:
Note: You must be logged in to add comments
---
2007-09-09 17:27:43 Their specialty pizzas (steak and buffalo wing) are crazy good. —DaveMahon
---
2007-09-09 18:41:52 Having just eaten, I realize that I forgot to mention something important. Their pizzas and wings are dripping in sauce and you will get messy. Forget the napkin, go for the wet nap. —DaveMahon
---
2011-09-30 21:58:48 1st time - Chef Salad - alright, maybe mediocre Buffalo Chicken Pizza - driest, most unpalatable crust ever seen in a pizza. actually, the whole pizza (chicken, cheese, and all) was hard to chew.
2nd time - pizza crushed by wings so half the cheese was stuck to the box
3rd time (purchased with a credit from the other screw-ups)- shorted us 5 different toppings between two different subs
How bad are these guys trying to stuck at running a restaurant? I think I've tried enough items and ordered enough times to decide NEVER AGAIN! —IanNorfolk