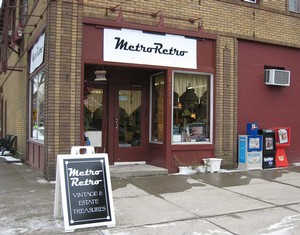 Metro Retro - January 2008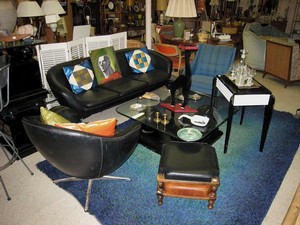 Some Retro on Display - January 2008
Former Location
1241 Park Ave, Rochester NY, 14610
Metro Retro specialized in "Vintage & Estate Treasures", mostly Mid-Century Modern. This store was quietly stowed away on the mostly residential area of Park Avenue, at the intersection of Colby and Park Ave. There were a variety of second-hand furniture, decorative items, collectibles, antiques, artwork and more - and in every price range. On some Mondays and Tuesdays the owner went out to collect new treasures, so you had to call before going.

Metro Retro was the retail outlet of KPV Enterprises.
Closed in Summer 2014.
Comments:
Note: You must be logged in to add comments
---
2007-09-08 09:45:28 This is a wonderful store. The prices are very reasonable, the stock is all fantastic, and Brian is extremely helpful — he even delivered to my apartment for no extra charge at 8:30am on a Saturday morning. —BradWeslake
---
2007-09-08 19:34:18 One nice thing about this store is that he seems to make an effort to always have new stuff. If you are familiar with cruising all the antique stores, you know that some shops end up having the same exact things every time you go... so eventually you stop going. Probably due to his reasonable prices, he turns stuff over quick, so that every time you stop in there is something new to see. —DottieHoffmann
---
2008-04-10 22:43:14 The most random stuff ever. I have scored a couple of unique gifts from here before. Worth a visit. —OneLove
---
2009-02-08 19:33:38 I found a nice piece for my dining room here. Great, eclectic stuff for quite reasonable price. The help was, well, helpful and very nice/accommodating to aid my search. —NateBurtch
---
2010-09-17 11:30:49 If you haven't been, GO! —BurbsGal
---
2012-07-15 11:32:21 The inventory is interesting and turns over. That being said, they need to work on the way they relate to people. This is a small town. Customers are not going to like being treated like walking wallets. A little small talk goes a long way. —Jeremywakes
---
2014-09-21 01:09:19 Appears to be closed for the time being. Brown paper on all windows. Not sure if it is undergoing renovation.
---
2014-10-03 19:28:44 The following is second hand info and not confirmed: There will be a very similar store opening in this space. Someone bought some or all of the MR business and will be relaunching either a reboot of MR or something new but appealing to pretty much the same clientèle. —badfish