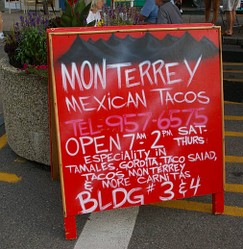 Monterrey Mexican at the Market
Breakfast Tacos, 7-2008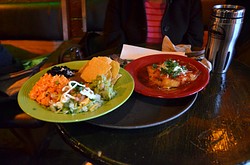 Huevos Rancheros, 12-2012
Former Location
Public Market Building 3-4
Status
CLOSED / CHANGED NAME (as of 2011)
See their new page here La Placita Mexican.
Comments:
Note: You must be logged in to add comments
---
2007-08-25 10:07:08 Mmmmmm breakfast tacos at the market, our Saturday morning ritual —DottieHoffmann
---
2009-02-21 13:07:45 Emily and I have been enjoying breakfast tacos every other Saturday for the past seven years and we never tire of them. They are simply wonderful.Here's to you Maria and Cassie. —kendebuck
---
2009-03-09 20:10:33 the food is althentic mexican from the northern state of Nuevo leon. as this is my first time in rochester i have to say that it was the best and the closest to the food that i am used to eating as it can get. —LeilaBocanegra
---
2009-06-05 15:30:04 Very fresh and delicious. Love the tacos here. I cannot go to the market without stopping for a taco trio and some arizona green tea mmm addiction. I go here now instead of the empanada stop, which is also good, but I find overpriced and a bit greasy... —WindyPig
---
2009-09-10 09:53:50 My pick for best tacos in Rochester. Take that for what its worth. —ErikReinert
---
2011-04-02 21:46:35 Maybe I chose the wrong thing, but it all tasted really bland to me. —ThomasPawlik
---
2011-12-29 13:53:10 Hey everyone thanks for all the wonderful messages! we are open again inside boulder's coffee every Saturday from 7am to 2pm!!! come visit us!