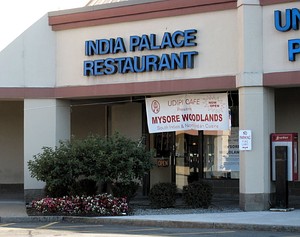 Mysore Woodlands, temporary banner, 8-2008
Former Location
1900 Clinton Ave South, Rochester NY 14618
Status
CLOSED (as of January 2011)
Mysore Woodlands was a restaurant in Loehmann's Plaza serving Indian cuisine. It closed in January 2011 due to lack of business and high rent.
History
In July 2008, India Palace was bought out by the
Udipi chain of Indian restaurants. As of July 11, 2008, it was still operating under the India Palace name, but was in the process of renaming to Mysore Woodlands.
Comments:
Note: You must be logged in to add comments
---
See Archive Page for comments prior to 2009.
---
2009-01-06 18:06:11 We really wanted to like this place. Several nice RocWiki reviews (recently), close to home. Alas, the lunch buffet was OK at best, no where near as nice as Thali or Tandoor. Visually, this place is depressing. The food is mixed, but the variety is limited. Looks like we will be driving over to Thali when we need our Indian fix. —LeGrandChien
---
2009-01-15 00:04:30 If you are vegetarian and love Indian food, there isn't a better Indian restaurant in Rochester for you. This place has a lot of vegetarian options due to the fact that many items on the menu are of South Indian origin and most South Indians are vegetarians. —OneLove
---
2009-02-01 12:49:56 Have been here a few times... only to find the food is always good, service the same- not so great but no bad either. enjoyed all their vegetarian choices. very affordable too. would recommend trying. —SaRoyal
---
2009-04-08 16:06:16 This has been my favourite place ever since i started going there, Apart from Dosa and other South Indian food which r truely authentic n amzing they have started thier new Daily specials, i was surprised to see Tandoori Pomfret on the list(pomfret is a exotic indian fish) i ordered one n to be honest enough i was blown off my feet it was damn damn tasty, me being from coastal india can surely vouch tht it was very authentically made n very well served when enquired i was told they specially import it from india once a week. also Chicken lollypops chicken 65 were really gud n tasty. In general this is the place rochester really needed. If u wanna taste authentic indian food visit this place u wont be disappointed —Nish
---
2009-04-12 19:54:21 My wife and I went here yesterday, a Saturday night. The restaurant was almost completely empty at first - it was just us, another couple, and then a third that came in just before we left. There didn't seem to be any takeout activity going on at all.
The service was quite good - but with the waitstaff outnumbering the customers, it would be difficult to be otherwise. The server was friendly, and he was assisted by another server throughout the meal.
We both enjoyed our meals. The appetizers came quickly, and were well prepared. The entrees came at an appropriate interval, and were also tasty. No issues with either of them.
We'd happily go back. —RichMulvey

---
2009-07-24 09:35:13 I and my wife eat here about once a week. She is from that part of the world and is very impressed with the authentic flavor of their dishes. I am impressed with the variety and quality of the food. The ingredients are all high quality and the preparation is very skillfully executed (not too oily, the spices are all in good proportion, the meat is tender). The buffet is worth every cent, there are always new, delicious foods to try. This would be a nice place to go if you wanted a break from meat: the meats are great, but there are also many great vegetarian dishes as well. As an added bonus, served with the buffet are dosas (crepes filled with potato) that are a really tasty.
The service are very kind and attentive. I should comment on one of the critiques below: the tall grumpy seeming guy is in fact very nice. He's just really shy.
The ambiance has improved steadily. There are more lights and there is usually some pretty "funky" Hindi music playing.
I highly recommend this place. —walternmoss

---
2009-12-19 14:07:30 well last tuesday was my 1st eperience with mysore woodlands DOSA NITE... Heard a lot abt this dosa nite frm frds so thought lets check it out.. n here is my opinion.. UNLIMITED ANY TYPE OF DOSA PLUS SPECIAL BUFFET... WOW isnt that sounds good... actually it even looked n tasted good.. i bet u, there is no place in rochester where u get so fine dosa.. since i m frm south india mangalore.. i din find any difference in taste, felt as if i m having my favourite masala dosa at my home town restauarnt... the foood is so good n dishes were fully authentic flavoured.. so many varieties of dishes truely YUMMMMMMY,north indian, south indian, indo chineese dishes were also included so it was just so perfect worth each dollar that i paid.... i think it was truley a treat to my tummy...me n my frd decided on the same nite that we wil be a regular customer for this restaurant cos the food was truely so good..i think my taste buds also agrees with it... well i recommend andhra dosa, paneer dosa... actually u shud try everything —sona

---
2010-01-10 20:16:26 Best Indian restaurant in TOWN, i lived in NJ so i know a lot about indian food and this is the best restaurant according to me. HIGHLY RECOMMENDED: TANDOORI SALMON, TANDOORI POMFRET(indian fish) their indo-chinese dishes and DOSAS —Sandyfurns
---
2010-03-10 22:16:22 lunch buffet selection wasn't huge, so we ordered from the menu. biryani & dosa was awesome! the chef's special (lollipop chicken) was also really, really good. you should definitely go here if you want authentic indian food. try to order from the menu if you don't like the buffet selection. —tembikairustic
---
2010-04-07 01:12:27 i have been to many Indian restaurants in the US and in India. This restaurant I would not rate as the worst ever,only because I want to be fair. The dosa were soggy, the coconut chutney was frightening in appearance and taste, the sambar was really a bland rasam, the deserts had to be returned to the kitchen, the curry dishes were barely edible. Two members of our party of 8 felt ill the next morning, perhaps due to the grease. The spice was not balanced and "hot" was not hot.
we Americans generally don't have a good sense about quality Indian food, but this place was just plain disappointing. —roadhog

---
2010-04-28 18:11:37 Recently I moved to Rochester and my Husband introduced me to this Amazing restaurant.Excellent Food and great Hospitality from the staff.We've been there several times and trust me,they've always treated us with high level of respect and it's always consistent. Great Job+++ —AnitaR
---
2010-05-12 03:41:37 Hey All... This place is extremely fantabulous. The food perfectly flavored and savory. The staff an A++ who do their best to serve you. I would wanna thank the owner who recruited such an eye candy of a server. He Ma'amz you all the time and chucks you with his witty ones if you get on his wrong side. He's a sweetheart though. I would be glad to take him home :) Lol kidding. to be precise the short guys with glasses. I often visit the restaurant just to be really happy to see him.
He recommended Chicken 65 and lollipop and they were mind blowing. I have been to India before but the taste was even more thrilling than the one they serve at home.
In all, MUST VISIT. :) Keep it up guys. —BubblyBabe

---
2010-07-26 11:34:24 Saying that this place is terrible, is an understatement. For starters the decor is totally unappealing(they dont turn on the lights nor the AC ), and looks like a fast-food joint. Also, the food is expensive, you get small portions, and it is tasteless, and the food is frozen,undercooked which they serve after heating it in an oven , its so obvious that they dont check the temperature of the meat being served and i dont want to eat raw meat, the dosa is so horrible and i dont know how people eat it still on the Dosa nite ( guys the filling inside the Dosa stinks) , ....I am of Indian ethnicity and have been around good Indian food since birth. The server(or owner) is inattentive to your needs; simply brings the food, then shows up when you're done,they dont wear hand gloves to serve the dish and they clean the tables with the same hands(is this hygienic). Here's the "fun" part, THEY ADD a 15% GRATUITY to your bill...you do not get to show your displeasure through your tip...or lack thereof...THEY ADD IT TO YOUR BILL!! When I saw that, I asked the server if we do not get the option of giving a tip, he simply smiled and said nothing. Of course, if the tip is added to the bill, they do not have an incentive to provide you with good service.
Dear reader, learn from our mistakes (failure to read these reviews before venturing to this place). DO NOT EAT AT THIS RESTAURANT. IT IS A RIPOFF. The only thing missing from the sordid experience was getting sick from the food...and I'm not sure if I'm out of the woods yet...it may have a delayed, sickening effect.By far this is the most disgusting food we ever had. The owner is all about making money and insulting the great Indian food. I bet none ever eats more than once in this place. The poor tourists are ripped with their extremely over priced menu and annoyingly late service for the sick food.
I'm afraid that the first timers will be scared to touch Indian food again. There has to be an action against such restaurants.
AVOID AT ALL COSTS...PLEASE!!!!! A SERIOUS REQUEST !!!! —anil

---
2010-11-07 19:05:29 I love this place. As a vegetarian with a vegan boyfriend, its a great, tasty option. The dosas are so good! —KariBerry
---
2010-11-10 10:37:17 Have gone 2 weeks in a row for their Tuesday evening "Dosa Night" buffets. They serve both Northern and Southern style food but the South Indian items are better which I suppose is logical judging from the name of the restaurant. The dosas are tasty - I like the Onion Masala Dosa, and for those who like spicy choices, I recommend the Andhra Dosa. Because I like an extra kick on some foods I asked for a small plate of onions and hot peppers which they brought with a smile at no extra charge. Have also eaten here on a non-buffet evening and ordered from the menu and enjoyed it. My husband went for a weekday lunch buffet with a vegetarian coworker who loved all the vegetarian choices. —KairakuShugisha
---
2011-01-23 10:49:24 Sign at the door says closed for renovation. —ThomasPawlik
---
2011-09-11 14:26:53 Sign in the window says: "Amaya" opening soon —ThomasPawlik