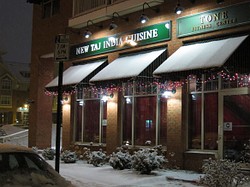 New Taj at Night, Jan 2011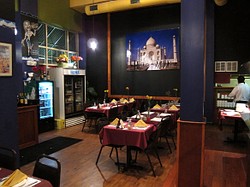 New Taj interior, Jan 2011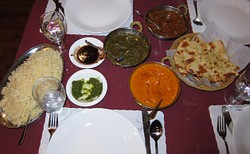 Dinner selection, Jan 2011
Former Location
298 Exchange Blvd, Rochester, NY 14608
Status
CLOSED (as of July 2013)
It officially opened on August 13, 2010.
It was closed as of July 2013.
Comments:
Note: You must be logged in to add comments
---
2010-08-23 18:14:29 This restaurant is run by one of owners from Shinwari Kabab. He is also the main (probably only) chef. I loved Shinwari Kabab for their authentic Indian food. New Taj retained all the food qualities of Shinwari and has added the great location to its advantage. I have been to a lunch buffet and a dinner. No other Indian restaurant in Rochester can beat the New Taj buffet for the value of the buffet. All great tasting food for just $7.99 (there is a 10% discount for UofR and RIT students) in a Indian buffet is pretty amazing. Now for the dinner, I ordered Malai kabab, Rogan Josh, Chicken xakuti and Lamb biriyani with Naan (there were 2 other friends with me). The biriyani was not authentic but so is not any other biriyani that is available in Rochester. Rest of the food were awesome. The kababs were heavenly (the chef Avtar is a specialist in these). I saw they have veg and non-veg thali which you can try if you are not sure what to order! Avtar seemed to be a very friendly person so if you want anything special on your order do not forget to ask him about it. —Mahul
---
2010-09-17 15:12:03 Lunch buffet was good times. The goat and beef were particularly tender and flavorful - the meat just shredded away and revealed some really subtle spicing. The naan was fresh and buttery, too. And their mint chutney was probably one of the best in recent memory. Considering the $7.99 price tag, it really can't be beat. —pstratigis
---
2010-09-19 23:38:09 Easily the best Indian Restaurant in Rochester ,here are the reasons why - 1.Best Location (In Downtown,near lake ,beautiful Cornhill) 2.Best Chef- Avtar Singh (he is well known in Rochester for his amazing cooking and is very experienced), 3.Interior Design is very comfortable and relaxing I love it! 4. Very Reasonable prices including a amazing lunch buffet for only $8!! , and there many more reasons which will keep me coming for more and more so I really recommend all Indian food lovers and others to go check it out!!!! —jhonnyb

---
2010-12-10 15:26:30 I LOVED this place! I went there on a Thursday night with a friend - we were the only ones there. All of the servers (I think we had 2 or 3...) were very friendly and the food was amazing, and so fresh, for a really good price. The appetizer we had was HUGE with so many flavors - it was a couple of samosas covered in dal, yogurt and tomatoes. I'm getting take out from New Taj tonight to re-live it. The makhani was amazing, too. —KatherineMcMcMc
---
2011-01-09 09:21:12 Our experience last night confirms the comments above, we had a very nice meal, the food was great, service was pleasant and prompt. There was a sign on the window indicating that the chef used to be at Raj Mahal, which was on Monroe Ave at Alexander for many years until they knocked it down. The buffet was not set up in the evening, but the signs indicating the various dishes made it look like a nice selection, we'll have to stop by at lunch to try it. We were there kind of early but it was quiet, we hope lots of people find this place and it gets busy so it stays around. —DottieHoffmann
---
2011-01-19 14:43:17 Not only is their food excellent, they do a pretty good job in catering as well. Had the best experience with any caterer. Highly recommended —DeepBhatt
---
2011-03-25 17:48:49 Not terrible, but not great either. Not enough bold flavors, meant for the applebee's palette. Creepy chalk drawings too. —jberna
---
2011-04-17 02:12:17 I am truly shocked by the plethora of positive comments above. They are part of the reason I decided to come here. But the advice of my group: STAY AWAY (at least, if you're not of Indian ancestry). Arrived at 7:20 pm on a Saturday evening (along with a few dining companions, all of us of African or European descent). Despite the fact that there were various empty, clean tables, the waitress told us it would be a few minutes. Fine, whatever, no biggie. After 5–10 minutes we were seated and promptly given water. Great. But, 15 minutes later …… nothing else. Not even a menu, despite the fact we were sitting right next to the kitchen, and the hostess and at least 3 other employees had walked by us. Eventually I walked up to the hostess stand and got a menu myself, and when the hostess again walked by us for like the 6th time, finally a person in our group said "is there something wrong with this table?" She promptly apologized and seemed to take the role of server. I ordered the Tandoori Platter and a side salad. Salad never came. I asked 2 of the employees passing by (servers?) for it. Finally it arrived, without dressing. I asked for dressing, and the "server" said "I don't think it comes with dressing." What??? I'm sorry, but I've never been to a restaurant in the U.S. - Indian or otherwise - that has the audacity to charge $4.95 for a plate of lettuce and cucumber withOUT dressing. (Tandoor, Thali, etc all serve dressing with their salads, and pretty good ones, too.) Finally, the main course arrived …… well, part of it. The tandoori platter was supposed to contain: sizzling tandoori delicacies, naan, rice, and lamb curry. Well, we received the "sizzling tandoori delicacies" but NOTHING else. We asked for the other dishes from all 3 of the different employees waltzing by our table, and EVENTUALLY received them all. Overall, the tandoori stuff was ok, but the lamb curry – ew. The worst I've ever had – watery, no spices, and hardly any lamb. My friend's biryani was similarly bland – 5 small chunks of lamb, and very little spice, even though he requested it "hot." As we were eating, we noticed other tables in the vicinity complaining about not receiving their ordered items in a timely fashion …. and we couldn't help but also notice that these tables, like ours, consisted of people not of Indian ancestry, whereas tables consisting of people appearing to be of Indian ancestry received their orders long before we did (despite the fact we'd arrived earlier), and servers visited their tables much more frequently. Bottom line: Despite their trendy location, our party was left with the distinct impression that New Taj only wants your business if you're Indian. If you're not, I'd recommend Tandoor or Taste in Henrietta instead – I know it's a drive, but you won't be ignored like you will be at New Taj, and New Taj doesn't hold a candle to the Henrietta restaurants in terms of food quality and flavor. —AJH
---
2011-05-14 15:52:57 I visited here for the first time today and I was the only patron there at the time. To make this review short, I'll just say this....Comparing New Taj Indian Cuisine to Tandoor of India is like comparing ground chuck to Prime Rib. Everything from the selection, decor, variety, and to the quality of the food was just so sub-par. What a disappointment. I do not foresee this place lasting too much longer. Tandoor will is shoulders above the competition. I was a fool to give this place a try. I don't know what I was thinking. Sorry for being so blatantly honest. —ChefRamsey
---
2011-05-17 16:25:44 The best new Indian restaurant in town - good quality, authentic Indian cuisine. (I grew up in India and know what the food should taste like - this is it). I've been here three times now for the lunch buffet and each time have been very happy. Most Indian restaurants in it's class usually serve extremely oily and sugary food. New Taj has pleasantly surprisedthey bring in the not so usually seen dishes in the US - including Sweet Potato and Green Pepper, Eggplant and potatoes, Palak Paneer. They also had Jalebis for dessert once!
Great location, good food. The service can be a little slow sometimes since they only seem to have one server for lunch who doubles as the cashier and hostess. —DesignDreamz

---
2011-08-24 18:42:51 We have been frequenting this restaurant since it opened up. Last May I held my wedding reception there. The food was simply superb, especially the kebabs. Best in Rochester. All our guests were absolutely bowled over by the quality of the food. I had relatives an friends from all over US and Canada, some of them have been here longer than ten years. All of them said ( and I am not exaggerating one bit) this was the best Indian food they had outside India. To experience the true magic of chef Avatar's cooking, I suggest ordeing ala carte. All through the planning phase of the event owners Baljit and Avatar worked closely with us while planning the menu, setting the tables, decorations etc. A friend of mine did the decorations for me, and they accomodated her and helped her out in setting the tables in the ways planned. I am very happy with the place, and absolutely recommend it to people. This is a great place for authentic Indian fare. And the kebabs are just divine. —Rocrocks
---
2012-08-20 13:02:59 WORD OF WARNING ON LUNCH TAKEOUT:
I was craving Indian food today but had to do takeout as I was rushing back to work for a meeting. I decided to try New Taj for the first time as it is closest to work and I had never been. I got there at about 11:45am and two men that work there were sitting at a table talking. No one else was there and the buffet was not set up yet. I asked if they did take out for lunch and he said I could order off of the menu or I could do the buffet as takeout. I said I'd love to do the buffet. As mentioned before, it was not set up yet so he went in back and made me a sampling of some items in a styrofoam container. He charged me $11.83 with tax. I thought that sounded quite expensive for buffet, but I had never been and the price was not posted anywhere.
I decided to check their website after I got back to the office to see if they posted the price of the buffet, and the site said $8.95!!!!!!! Why did he charge me $11.83 and where did he even come up with that price? I would think if anything, you would charge less for buffet takeout (not that I would ever expect that, but for argument's sake) because it's not like you can go up for seconds or anything. I did not even get to choose the selection of foods and it was 2/3 vegetable and a little chicken makhani. It just made no sense to me, and I feel as though I was totally ripped off. I'm glad that I was not that impressed with the food, it makes it much easier to never go back... —NYminute