Niblack Foods former building, as seen from the Genesee Valley Regional Market parking lot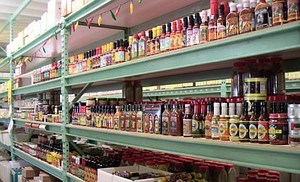 An impressive array of spices & hot sauces
Niblack Foods, which has been in Rochester since 1932 acquired the spice portion of its business by buying 'Tadco' in the late 1980s. It caters to the commercial baking and foodservice market, but their Henrietta warehouse/store is open to the public as well. No fees or minimum purchases are required.
They are located in the Genesee Valley Regional Market along with Lori's Natural Foods. In 2020, they moved from Building 6 to an updated building behind Palmer's Meat & Seafood Market.
Comments:
Note: You must be logged in to add comments
---
2005-09-09 12:29:21 To avoid biking on Jefferson itself, take 15A from the North and cut right into the industrial park at Dunkin Donuts. —JonRobins
---
2007-07-23 12:13:07 Hey vegetarians, I get my
TVP here. They have a variety of TVP. I usually get the "taco" tvp ones. They are a great alternative to ground beef. —EmilyYang
---
2008-04-13 16:45:07 Note - you can also access the market by coming in from Brighton-Henrietta Townline Road, and turning at Clay. Clay takes you over to Jefferson (near Home Depot) but there's a turn-off into the market. Tadco is awesome for spices, cake decorating stuff, nuts, honey, hot sauces, etc. Bet you can't walk out with at least one thing you didn't realize you could not live without. —DottieHoffmann
---
2008-06-02 02:43:08 This place is amazing. I bought a giant sack of dried lavender here. —MariahBetz
---
2008-10-17 03:44:50 Tadco has a great selection of spices, flours and other baking necessities, nuts, seeds, etc. My favorites thing to buy is the gourmet honey. My favorite things to look at are the colorfully named hot sauces. —RachelNeusch
---
2011-02-14 00:37:50 I have a love-hate relationship with this store...I love the variety of spices but I hate how much I spend here (despite their reasonable prices). You can get effectively any spice you want at this store and most of them come in a smaller packet so that you don't have to spend too much on something you will use rarely. Their BBQ/hot sauces seem expensive ( there are a few here that you can get for cheaper at Wegmans ) but the variety is unparalleled. Come prepared to spend money on spices you never knew about but now need to buy immediately. This store is really a one of a kind gem in Rochester. —OneLove
---
2011-02-14 09:37:04 I've been in this store a few times. While the selection is great, I know you can get most of this stuff cheaper online. —DamianKumor
---
2012-06-18 14:06:35 Went in at lunch time looking for a 6 lbs bag of ground Cayenne. They didn't have any bagged and they had no packers working yet the staff-on-hand went out their way to get one packed for me. Supper great customer service - much appreciated! —RochesterBass
---
2012-12-07 15:00:27 I dont know what is actually cheaper online, but here's a list of things that arent:
* candy making wafers - Merkens and Vanleer. Havent found them in store anywhere else, and amazon's more expensive, even with Prime.
* 1lb candy boxes - .44 cents each. Just try buying candy boxes anywhere else. If you beat that price (and it's even cheaper at 1doz) you'll have to tell me.
* almond flour - convenient, and the price is the same online.
* cake flour
* cake boards
other awesome things:
* sprinkles by color! Need just one color of nonpareil? Niblack's gotchu.
* powder food coloring
* edible glitter
* every weird flavor extract your heart can dream up
* cake boxes (Innovative Restauraunt Supply also has these, in more options, but these usually suit me fine)
* couverture (chocolate for candy making)
* gelatin sheets (the british love these vs powdered gelatin)
if you're looking at the grains/spices/sauces, yeah there might be cheaper things elsewhere but i dont know what i would do without niblack when it comes to baking!

---
2019-09-23 16:31:00 Tadco was my father's store originally, in the 1970's and 1980's... It's crazy to see what it is now. I was fairly young when he sold it, but the thing I remember most is the smell of all the spices. —HollySykes