Lori's Warehouse at night.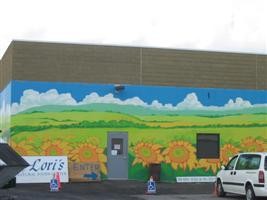 Lori's warehouse; the structure next door was razed and paved in 2013.
Location
900 Jefferson Road, Henrietta NY, 14623
near the intersection with 15A
Hours (as of February 2013 via Website)
Monday - Saturday: 8:00AM to 9:00PM
Sunday: 10:00AM to 6:00PM
Phone
585 424 2323
Wheelchair Accessible
Yes
Email
<customerservice AT lorisnatural DOT com>
Website
http://www.LorisNatural.com/ (Beware the song)
Facebook
Twitter
Lori's Natural Foods is located in the Genesee Valley Regional Market. Lori's is a good source of organic and other natural food products for humans and pets. Also a good source of really annoying local commercials. See the website for more information.
Products from Flour City Pasta are also available.
Awards
Comments:
Note: You must be logged in to add comments
---
ADMIN NOTE: Comments from 2007 & earlier are archived at Lori's Natural Foods/Comments
---
2008-01-13 20:14:58 I've always loved loris for homeopathic remedies, vitamins and natural products. Have to agree with with AutumnHaag, though.Hope they can compete with Wegmans becuase Pittsford it offering many of the same items at comparable or better prices. —HeidiAnn
---
2008-01-30 21:24:17 They have a great selection but I agree with the others, the prices are high compared to Wegmans. Lori's obviously has more items and the staff is usually helpful in answering questions or giving you ideas. Sometimes they seem to busy to help though. I'm am glad we have Lori's in Rochester, I'm happy with several of the products and will continue to buy them here. —RochesterPhoenix
---
2008-02-29 04:02:32 I LOVE the bulk section with a passion. Especially for spices, most of the time you dont need a whole bottle and you wouldnt want it to go stale. We also buy our cat food there and we love it. I personally enjoy the commercials, I think they are darling....especially the dog. —EllaBeeney

---
2008-02-29 13:45:37 I will not go there because of their commercials, which are just embarrassing to watch. —DennyWooty
---
2008-06-02 02:36:32 Hilariously located behind a steakhouse. Fascinating selection of health foods, exceptional bulk section (habenero flakes, anyone?) and EXPENSIVE. I think I paid $9/lb for organic walnuts there, which I won't be doing again. Worth spending the extra dough on some items, though, to support this remarkable local company. —MariahBetz
---
2009-12-16 23:41:26 Last time I wanted to make homemade goat cheese they were the only place selling the right kind of milk (pasteurized instead of ultra-pasteurized) —DamianKumor
---
2010-08-02 19:12:07 I started shopping here again instead of Abundance Cooperative Market because I was annoyed that Abundance started mixing in non-all-natural foods with modest "non-organic" labels (plus, I don't like the least-common-denominator solutions that collective decision making brings). I appreciate that Lori's is all all-natural (at least as best I can tell). However, I try to use my own containers for bulk foods, but it's so difficult at Lori's that I'm heading back to Abundance. First you have to get a sales associate to tare your container, then they wait at the scale for you to dispense it, then print an adhesive label to add to your container. This seems absurdly wasteful for staff, and the label is wholly unnecessary (at the Coop, they tare your container and write its weight on your container, then you just write the PLU code and they'll weight it at checkout and subtract the measured tare.) To add insult to injury today, I didn't bring the right funnel size for filling my popcorn container, so to be helpful, the clerk cut the corner off a plastic bag to use as a funnel (they don't have any funnels — the Coop does), but in the end, it didn't work. Plus, although I brought my own container, I sent a bag to the landfill anyway. —JasonOlshefsky
---
2011-08-09 22:40:44 I worked here briefly, they wanted me to be on the commercial, I told them they would have to pay me $10K to be on that ridiculous commercial. It's a nice store if you want to eat healthy & can afford to shop here, I like the selection of chips and of course the bulk section is awesome.
---
2013-02-06 17:48:21 I really enjoy going to Lori's. Their prepared sandwiches are to die for! They do have a broader selection than Wegmans but most of the items that both stores carry are significantly cheaper at Wegmans. I understand Wegmans is a bigger entity but if you are looking to eat organic and save some dough I would do my shopping between both businesses. —jcs3636