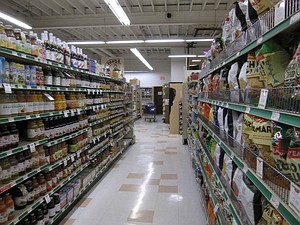 Well Stocked Shelves 11-2009
Location
571 South Avenue, Rochester NY, 14620
Hours (as of April 2017)
Monday - Friday: 8:00AM to 8:00PM
Saturday: 9:00AM to 7:00PM
Sunday: 10:00AM to 7:00PM
Phone
585 454 COOP (2667)
Wheelchair Accessible
Yes
Alcohol
Yes
Website
http://www.Abundance.coop
Facebook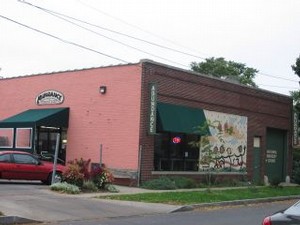 Exterior View of the Market
Abundance Cooperative Market is a cooperative grocery store formally located right off Monroe Avenue in Wadsworth Square. In 2013 it was announced that Abundance Co-op was looking for a larger, more visible space, preferably in the South Wedge. They finally settled on Echo-Tone Music's old space at 571 South Avenue and moved there on April 22, 2017.
It was formed by the members and shoppers of the former "Genesse Co-op Foodstore" which was located at 713 Monroe Avenue for about two decades and in many ways functioned as a co-op though legally not one. "Abundance Cooperative Market" was legally incorporated as "Genesee Coop Natural Foodstore, Inc" (a true cooperative) before a new name could be voted on, so "Abundance" is the d/b/a name.
Shopping at Abundance Cooperative
Abundance features a typical health/organic market layout, with a produce section, dairy, eggs, and some organic and local meat. They have an extensive and impressive bulk foods department, along with bulk shampoos, cleaning products, and oils. Boasting the cheapest tofu in town (bulk) at $1.49/pound (as of 03/12/09), they also carry a wide array of LOCAL bulk nut butters & honeys. Other local products include A Taste of Supreme pies, South Wedge Botanical Soap, and Eat Me Ice Cream. Fair Trade products are available as well.
Joining the Cooperative
Buying a share in the coop is currently $100 and gives you full membership privileges, including participation in the decision-making process—including the direction of the store's future, plus occasional discounts and specials. Most importantly though, you get to be a part of Rochester's only cooperatively owned food store!
Additionally, as a member, you have the option of working in the store each week or a couple times a month in exchange for a monthly discount at the register. Call the store for more details.
The small "cafe" section features free wireless access. There is coffee and pre-made deli items to-go, or to eat in the cafe.
Comments:
Note: You must be logged in to add comments
---
2008-02-25 14:23:51 Currently, they treat their employees like shit and use a hierarchical model to operate. It's certainly not "cooperative." —TedForsyth
---
2008-06-02 01:49:35 Worth checking out, for sure. They have a decent selection of organic produce, including some hard to find items (golden beets). Cheaper than Lori's. —MariahBetz
---
2008-08-19 16:13:37 I always enjoy when I can make it to Abundance. The hours make it a bit difficult, since I work til 8 most days. If you have the time though, this is an excellent source for organic and vegetarian foods. —EugeneCain
---
2009-06-13 00:16:17 Welcoming store. Trendy atmosphere. Friendly and thoughtful staff. Unfortunately, the produce isn't fresh. The meats are frozen. The ice cream is poor quality. The prices, however, are EXORBITANT. Think $8-a-gallon organic milk and $7-a-pound butter. The inventory betrays a lack of understanding and love for food. Whole Foods, however flawed (and sadly absent from Rochester), dominates Abundance in almost every way. This is lamentable since Whole Foods isn't even superficially "about the food"—it's just a Wal-Mart for the wealthy. —Giffen
---
2009-08-30 07:46:42 Abundance is definitely no Genesee Co-op Foodstore. They have become Rochester's own "Animal Farm". Issues that have been voted on by shareholders have not been upheld. For example, carrying meat in the store was supposed to be done under the circumstances that is was shelved in specific areas of the store, be organic, and from local farmers. The meat is throughout most departments of the store now, NOT always organic, sometimes not even free-range (Pacific chicken broth), and sourced from national farming industries. When the manager (at the time this began) was questioned, their response was (literally) "We lost the notes to that meeting". Meaning-the most controversial meeting that the co-op had ever had-whether to carry meat or not. They have enforced strict dress codes on the employees. One member of the board was asked to leave the board because they considered it a conflict of interest that he taught yoga at another local natural food store. Teaching yoga? for free? The "co-op" also offers a wide array of "Made in China" products. When I asked about this, I was directed to submit comments/questions to the suggestion box. I did so THREE times over a two month period, with no response. I also made phone calls that ended with "I'll have someone get back to you". I decided to go back to asking in person. When I did, they said it was easier to get it from one supplier, and that they couldn't find these items that were made in the U.S.A.. Measuring cups? Napkins? I did a simple search on Google and came up with tons of results. They also carry many foods that are simply unhealthy to eat. Ridiculous sodium contents, very hight fat, and overly processed foods that were obviously ordered because of convenience, not after researching them properly, and were continued to be carried. When I worked there, we had a mission statement posted on the wall that listed something to the effect of: "providing healthy food to the ROchester community". I asked the manager a few years ago where the mission statement was, or if I could at least see a copy. I also was sure to mention I was a shareholder. They responded with "I don't know where that went..we don't post it anymore". They have, in general, totally morphed from what I understood the idea of a co-op to be, and quite eerily become Rochester little example of what goes wrong when the common shareholders don't stand up for what is right, even if to the point of protest. I am also at fault. I've asked questions, become frustrated at left it at that. I, like MANY others I've talked with and share my concerns (I can list about 14 off the top of my head), frankly don't have time to to challenge the bureaucracy. In fact, it's really no coincidence that so many people have quit. I realize that many people that read this may know who I am, and I even contemplated changing my name on here to avoid dirty looks. But, you know, I am frustrated, sad and confused as to why this happened to a store I once loved so much, and really worked very hard in for 60 plus hours a week. So, if I don't have the guts to go in there screaming, at least I'm shared some of this info with the rest of the world. To leave on some positive points: They do have a great nut butter selection, the bulk section is great, and I love that they carry Savory Thyme food. Bulk Tofu is also available which is a great value. —Jahniqua
---
2010-02-22 15:28:53 Just started shopping here and its a worth the trip. Organic stuff here is far cheaper than Wegmans and the bulk section is awesome. I only wish they had a better meat selection but I can always go to the public market for that. All in all a great local store. —GeorgeBluth
---
2010-03-02 11:32:43 Joe Bean Coffee Roasters is proud to partner with Abundance as a local Fair Trade and organic coffee provider, check out our product on their shelves! —BenjaminWoelk
---
2012-03-02 18:10:39 I LOVE Abundance Cooperative Market. I'm hear to rave. I moved to Rochester about a year ago and was concerned about where I would shop for organic whole foods at affordable prices. I find most of Abundance's prices to be below Wegmans, especially if you are buying bulk foods. The selection of organic produce blows Wegmans out of the water. (What is wrong with the Rochester Wegmans stores when it comes to organic?) There is always everything I want at Abundance and often locally grown. And some of my sinful pleasures like organic strawberries in December! The staff is amazing, greets everyone at the door. And one thing I love about Abundance is that I feel like I am walking into a community shop. Everyone is a real person who talks to you and smiles! —ChristineJohnson
---
2012-03-19 13:24:14 This place has replaced Wegmans for me. —EileenF
---
2012-03-19 20:35:24 I second the last reviewer. I never go to Wegmans anymore. Why fight the crowds and deal with the cold, impersonal atmosphere of a big-box store when you can have the charm of Abundance and all the whole foods (and organic too) that you could ever want? —JessicaF.
---
2012-10-27 13:08:52 I once emailed Abundance and asked if they would consider carrying a deodorant I liked that I had been buying from Wegmans. Abundance already carried several other products from the same brand. In response, I was told that this particular deodorant contains an ingredient that had been shown to cause cancer in lab animals, so Abundance has no plans to stock it. I was left very impressed with the high standards they demonstrated in determining what they do and do not sell in their store. —EileenF
---
2013-07-21 15:42:28 I stopped by Abundance for the first time because I had purchased an Amazon local voucher...I assumed that by offering the deal they were hoping to get lots of new people in to check out the store. From the minute I walked in I felt like I was in an episode of Portlandia. Not one person spoke to me and when I asked a question I felt like I was an interloper. It's too bad, I think there are other co-ops nationwide that are setting the trend for service, selection, and price and are booming! Abundance could really grow from taking a look. One example
http://www.willystreet.coop/. —shawnalusk
---
2014-01-11 20:11:32 Mt. Hope and Ford is going to be a VERY bad move. —sub619