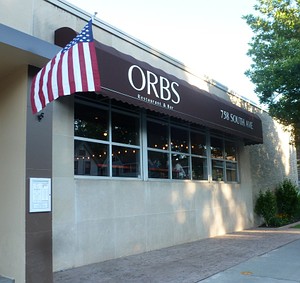 Former Location
758 South Avenue, Rochester NY, 14620
Status (as of May 2018)
Closed May 7, 2018
The owner was Bob Caranddo and the chef was Steven Lara
Opened on July 8, 2014.
Comments:
Note: You must be logged in to add comments
---
2014-07-26 15:54:15 This is a wonder of a restaurant in the South Wedge. We had heard good things and decided to try it. Best decision of the week (second best was deciding to go back tonight). The space is beautifully done and you won't recognize you are in what amounts to a small industrial building once through the front door. The staff is wonderful, polite, knowledgeable, I could go on but won't. The bar is large, well designed (down to purse hooks under the bar ledge). The variety of wine is more than sufficient, VERY well chosen, and priced quite fairly. We are vegetarians, so while we could not try everything on the menu, what we did try was remarkable. The caprese salad featured perfect tomato slices with local mozzarella, a basil leaf and a pesto drizzled over the top (and here they know that pesto means paste and not oil with bits of spice in it). We opted for the Felafel ball appetizer and were greeted with what seemed more like a meal sized portion of the lightest, and incredibly tasty felafel balls, drizzled with tahini. The felafel is made with cannellini beans. We also had a side, mine the smashed potatoes (great) and my wife the polenta (I have become a fan). The greens and beans were also great, the greens not overcooked as they so often are. We had no room for the Sfingi (with it's sauce changing nightly), but based on what we did have, we'll have to save room tonight. And when was the last time the owner stopped by your table to ask you how the meal was and solicit your input and ideas. Think hard . . . . If you want large spheres of beef sitting in a heavy tomato sauce on a bed of pasta, this probably isn't the place for you. If you want to be very pleasantly surprised by a wonderful meal, you now know one more place to go. —LouisFaber

---
2014-07-30 08:18:31 Went last night for the first time with some friends and we really liked it. Very nice, clean space. Great drink specials and the service was phenomenal. —CMurtaugh
---
2014-07-30 14:31:24 Four friends and I went to Orbs July 29 for their late happy hour ($5 specialty cocktails 10pm - close). The space has been outfitted very nicely, the restaurant's interior looks much nicer than the tan brick box it's housed in.
Unfortunately, when we got there the kitchen had closed, but we made our way through all the special cocktails on the menu. They were all fantastic- well-balanced and drinkable. A few in particular stood out: The Swedge Collins in was excellent, a grapefruity Tom Collins that I will certainly be back for. The margarita was fresh and bright, with a nice kick from muddled jalapeno. Their take on the Cosmopolitan (can't remember the nickname) was perhaps the best cosmo I've tried, in that it wasn't a fruity mess. Lastly, the Genesee Valley Iced Tea (Long Island) was great, made with melon vodka, and very refreshing.
Service was excellent. I can't wait to head back for a meal when the kitchen is open! —alexk

---
2014-12-12 18:55:46 What a treat! Went with a friend for a cocktail and snack. We tried the assortment of appetizer sized meatballs and the hand cut fries. The falafel weren't our favorite but the buffalo chicken - yes. The asian beef...even better. The owner came out and sat with us for a while - he's so friendly and warm, a real gem in the South Wedge. We talked with him about how we were hoping to try the spicy pork meatball so he brought one out for us to share and it was amazing - the sauce was flavorful with a little kick - obviously house made with care. Jazzy was our bartender and also waited on us - she's amazing. Knowledgable, cordial, chatty, phenomenal. We also split the sfingi, which was delicious. I am so glad we decided to check it out - I will be back very soon and highly recommend it for a laid back but urban experience. —shawnalusk
---
2015-05-04 09:29:40 Went there yesterday for brunch and had a great experience. The service was good, and the food was great. I had the sausage balls with sausage gravy, biscuits and chorizo hash. Really great. The décor is very nice. Not a huge interior, but not too small either. Will be back. —DE
---
2016-05-10 16:58:56 A year later and I still love this place. A bloody mary and a small draft beer of any kind for $9 total during brunch is a fantastic deal. —DE