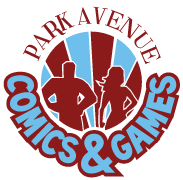 Park Avenue Comics & Games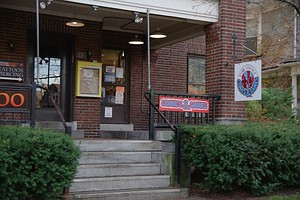 Park Ave Comics and Games, 11-2010
Former Location
713 Park Ave, Rochester NY, 14607
Park Avenue Comics & Games is a family-friendly comic book and game store located on Park Avenue in Rochester, NY.

Offerings include new release comics, back issues, trade paperbacks and manga, collectible card games and board games, comic book and anime toys, t-shirts, designer vinyl figures, and other merchandise. Can special-order items. New comic book releases arrive every Wednesday.

The store closed in January 2013 with the following message on their website:
We have a sad and frustrating announcement to make — we have to close the shop. We apologize for the huge inconvenience to our customers, but we will not have any more new comic deliveries at this point. All of our inventory in the shop will be discounted in the next several weeks until we close our doors. Please stay tuned for changes in our hours of operation; we will be reducing them soon.
For the past several weeks, we have been trying to find someone to take over the shop for us. We really wanted to stay open for all of our customers and employees. Unfortunately nothing worked out. There was an interested party right up until this weekend, so sorry for the short notice.
We will miss you all! We have made some great friends during this time. Thank you to all who played games with us and endured Matt's antics! And thank you to those comic fans whose love of art and an actual book in your hand keep this industry alive.
Take care and good luck in all of your endeavors!
— Matt and Jess
The location is now Just Juice.
Comments:
Note: You must be logged in to add comments
---
2010-10-02 13:20:07 Also offers the largest selection of Kidrobot figures in the Rochester area! —jessamatt
---
2010-10-02 13:22:05 Come join us every Wednesday at 6pm for free board game night and every Thursday night at 7pm for Magic The Gathering night. We are very laid back and just want to play! —jessamatt
---
2010-11-04 11:27:31 I love this place! I'm in here at least twice a week, buying Magic cards or picking up a random comic or nerdly delight that catches my eye. The owners and the staff are friendly and knowledgeable, and the overall atmosphere is much more welcoming that any comic or game store in the area. Because they are a smaller and newer shop they may not always have what you're looking for right there, but they will always order for you! This is the type of place Rochester should be supporting, a friendly family-owned business run by people that love what they're doing. —MarkNewell
---
2010-11-28 13:44:57 They are starting to do Kidrobot trading events where you can trade your duplicates and get discounts on kidrobot toys! Next one they said should be in January. —Redjack
---
2013-01-19 16:41:04 They're having a closing sale right now. They'll probably be closed by the end of the month or February. —EileenF