Park Ave Pub 2-2008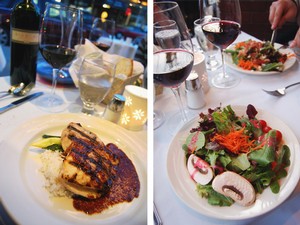 Swordfish in a Soy-Ginger sauce; Mixed Greens Salad (April 2008)
Park Avenue Pub is a bar and upscale restaurant on Park Avenue.
It originally opened on July 5, 1973.
Comments:
Note: You must be logged in to add comments
---
2007-07-26 11:54:58 Nice place. I would put it sort of along the lines of Grinnel's but with a little bit more modern menu and feel to the place. My parents frequent it and the owner is great. She recognizes them and buys them drinks or a free appetizer from time to time. —BadFish
---
2008-03-29 16:45:57 Definitely one of our favorites for a special occasion meal, food and service are consistently great. More expensive than other Park Ave options but certainly worth it every now and then. —DottieHoffmann
---
2008-06-01 22:53:39 One of our favorites too. Consistently good food and friendly, knowledgeable servers. It's a great place to spend an evening with friends - you can have a conversation and hear each other, and you never feel rushed. —TimMortenson
---
2008-08-15 10:55:12 Ive never had a good meal at Park Ave Pub. And the interior is pretty hokey, 80's style with some modern AC Moore tschotkes thrown in. Its not awful, but I wouldnt send someone there. —MrRochester
---
2008-10-12 19:36:05 I love Park Avenue Pub. It's mellow, relaxed and I've always had outstanding food there. It's one of my favorite places in town, but a little more money than I'd spend on just a regular weekend night. —CindyKin
---
2008-12-20 12:19:35 The few times we've gone, we've been pleasantly surprised. It's expensive for the Park Ave area, so we don't go often, but the meals we've had there have been very nice. In particular, one of the best crab cakes I've ever eaten was there, and the other main dishes haven't disappointed either.
---
2009-02-19 20:42:23 Interesting decor...best described as kitschy meets hokey. We had 2 servers - one was much better than the other but the other was average. The mixed drinks were very strong (some like it like that...I don't). The garlic grilled shrimp was a great appetizer - the shrimp was very fresh and had a lovely smoky & garlicky taste. The satay was terribly plain..and I didn't see the cucumber slaw that was described on the menu. The sauce on top of the satay was a weird cross between lemon and peanut but void of flavor. For our main entrees, we ordered crab cakes and the strip steak. The crab cakes were very good...paired well with the slightly bitter field greens. The steak was one of the best I had ever tried. Despite being stuffed at this point, the dessert options tempted us. We tried the Belgian chocolate & hazelnut cheesecake and the frozen peanut butter pie. The cheesecake was incredibly rich - after a couple of bites, I was done. The frozen peanut butter pie was polished off so I think it was enjoyed greatly. If I had to guess, I would say neither were made there. While we had a mostly pleasant and delectable experience, it felt rather generic (especially for the price. I would expect it to make a much bolder impression). I think I would pick Lento over this. But I would definitely recommend giving it a try! —OneLove
---
2009-07-09 16:03:14 We had an enjoyable meal here and while the crab cakes where quite good, but the mussels appetizer really stole the show. We were the only non-silver-haired patrons the evening we visited (for dinner at 7:30pm). I didn't find the decor hokey, but rather found it to live up to the "pub" portion of this establishment's name. —EllenKelsey
---
2010-10-27 16:49:07 Some gracious words about the Pub in this Rochester Food Net photoblog
http://rochesterfoodnet.com/component/content/article/71-kitchen-kamera/392-culinary-csi-at-the-park-avenue-pub.html —KurtBrownell