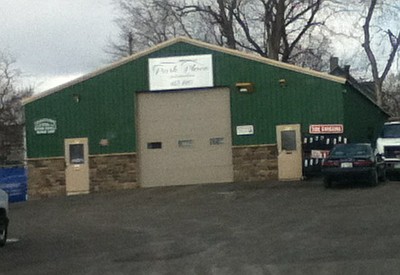 Park Place Automotive is an automobile repair shop and towing service. They are a separate location of Mer-win Automotive.
Originally at 1035 Bay Street and known as Drive Line, they moved to their current location in Beechwood, and adopted their new name, in November 2013.
Comments:
Note: You must be logged in to add comments
---
2012-06-26 10:27:26 The tiny office area is certainly not accessible - the doorway is narrow, with a step up.
Drive Line and Mer-Win Auto (corner of Winton and Merchants) are separate locations of the same business - see
http://www.merwinauto.com/ —MarkJackson

---
2013-11-08 18:00:28 There's now a sandwich sign out front saying they're moving to 679 Culver Rd. That's the former Norm's Culver Auto building, the exterior of which has been refurbished, with signage for "Park Place Automotive." —markjackson
---
2022-08-25 13:10:31 I think they've closed - no signs of activity the last couple of weeks at least, and no mention of them remains on the Mer-Win website. —markjackson