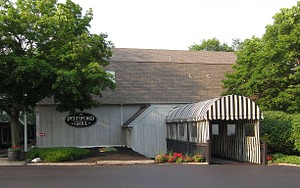 Pittsford Grill Entrance, 07-2011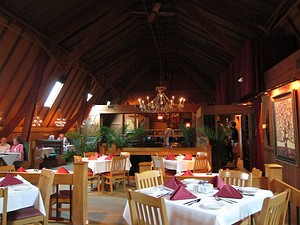 Upper floor dining area, 07-2011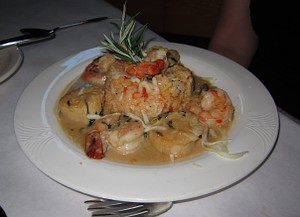 Shrimp and Scallops with red pepper Risotto, 07-2011
The Pittsford Grill is a party house located at the inside corner of Clover St. and Jefferson Road (Tobey Village).
It once served as an upscale restaurant that featured both dining and live entertainment, spread over 3 levels. However, its last day as a restaurant was November 22, 2011, citing rising commodity prices as well as too many discounts given.
Formerly Crystal Barn.
It opened on May 20, 2011.
Comments:
Note: You must be logged in to add comments
---
2011-08-18 20:21:05 Went for my birthday a couple weeks ago. The surroundings are very elegant, staff was attentive and pleasant, and we both enjoyed our meals. Had a very nice time, we'll get back again soon. —DottieHoffmann
---
2011-11-19 00:08:11 My husband and I went for the first time tonight were pleasantly surprised. The atmosphere and decor were perfect for a chilly night: warm and cozy, yet elegant, with a jazz band playing in the background. Service was polite but leisurely - perfect for enjoying a long conversation without feeling like we were being either ignored nor rushed. As expected of an upscale-type restaurant, the cuisine was rich and heavy, but unlike at comparable places, it was eloquently spiced - the richness of the food wasn't just an excuse for bland, ho-hum American steak-and-seafood fare, but rather an indulgent complement. The wine-by-the-glass selection could do with some expansion, but the spot-on mixed drinks were an excellent alternative. —AJH