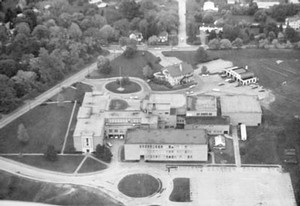 Pittsford Sutherland High School, circa 1970's
Pittsford Sutherland High School, located in Pittsford, is one of two high schools in the Pittsford Central School District. It is also known as SHS (Sutherland High School) because it is located on Sutherland Street.
The school is located just on the outside of the Pittsford Village where many students walk to during lunch period and other free periods. Pittsford Plaza is just down the road in the opposite direction where many students will also go for lunch.
The school in 2006 went through a renovation where a new gym was built, just about half of the classrooms were renewed, and a new soccer field was built with a stadium and track around the field.
Although they're rivals, SHS has a close relationship with the other Pittsford High School, Pittsford Mendon High School. The two schools have a combined team for both football and lacrosse. But there are separate teams for Soccer or Basketball and when the two schools compete against one another it is a major local event. The SHS v. Pittsford Mendon basketball game has been turned into a charity event known as the Rainbow Classic.
Also see:
Wikipedia article on Pittsford Sutherland High School