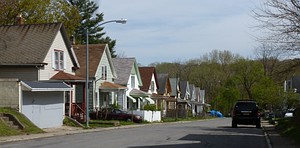 Riverview Place is a very short, dead-end street located off Exchange Street in the Plymouth-Exchange. It is unique in the City of Rochester for its tiny cottages, each about 660 square feet, built for workers in the 1930s. They usually sell for around $20,000, although one in disrepair was listed "as is" for $10,000 in September 2012.
During a Plymouth-Exchange
community planning charrette held in June 2012, Riverview Place received a great deal of attention as a possible historic district. Two stately homes situated at the corner of Mount Pleasant Park and Exchange serve as gateways to the little street and its rows of cottages, creating a distinct architectural character. Participants in the charrette further recommended that Riverview be extended to the Genesee River itself, in keeping with its name. A resident expressed concern the illegal dumping occurring in the woods between Riverview and the New York Standard Oil
brownfield to the east. It was subsequently agreed that streetlights should be installed and the bush cleared out.
For the most part, Riverview Place is said to be a quiet street with a mix of homeowners and renters. Pleasant Park Properties owns several rental units on Riverview itself and in the immediate area.
| | |
| --- | --- |
| One of the two "gateway houses" discussed at the charrette. Several Rochesterians have expressed interest in purchasing this house, but the owner, who lives out in California, refuses to sell. | The other gateway house. Well-maintained and currently occupied. |
Comments:
Note: You must be logged in to add comments
---
2012-09-09 18:43:07 The cutest little street you ever did see. —EileenF