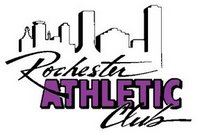 | | |
| --- | --- |
| Former Locations | Phone |
| 190 Greece Ridge Center Drive, Greece, NY 14626 | 585 225 8888 |
| 21 Goodway Drive, Henrietta, NY 14623 | 585 424 2222 |
Comments:
Note: You must be logged in to add comments
---
2010-10-22 19:54:59 I will never refer a friend to this gym. I strongly recommend researching before signing up..... I am in a multiyear contract and cannot get out. I now understand why they lock people into 2 year contracts. People would not voluntarily go to this gym for more than 4 months. In closing, due your due dilligence before signing up. Buyer beware. —Jeshua
---
2010-04-08 15:38:05 Beeee careful, I know three people who have had to take them to small claims court to get out of their membership. —meghanoo
---
2008-01-30 21:56:55 I have been to several of the clubs on the 3 month trial membership. It was a nice place but the regular rates werent worth it to me. Now that I belong to a different gym, the RAC workers will not stop calling me. I have asked 3 times to be put on a do not call list. Let it go RAC, stop harassing people on the phone. I'll certainly never refer a friend for this reason. —RochesterPhoenix
---
2007-12-07 01:26:45 I go to the Greece Ridge location and love the gym. Nice environment with very diverse membership. Only complaint is the guys who insist on walking around the locker room nude. I don't mean just getting changed at your locker or taking a shower. I mean walking around, sending text messages, etc. Put some clothes on. I can deal with the regular locker room nudity, but some guys have no shame. —WestSideB
---
2007-09-24 19:43:44 Pretty good rates for students. I'm only paying $33 a month if I remember correctly. —JohnJoseph
---
2007-07-21 21:46:13 The Brighton/Henrietta gym is a nice facility with good racquetball courts. I used to play with a neighbor who is a member and I would get the hard sell to join every couple of months. —ScottHendler
---
2010-12-13 12:26:50 They are just absolutely horrible. They sign you up for two year contract, and never mention that you cannot cancel. They don't even tell you that you have three days to cancel. Then when your term is up, they ask for 32 days of notice, otherwise, you are in an automatic renewal. DON'T EVER JOIN RAC!!! Their goal is to trap you in. —xtalau2
---
2011-08-14 17:54:02 I have a bad experience with this place. The 2 year contract is a trap and I have tried several times to cancel but they will not cancel. I feel so frustrated to pay monthly dues when I do not want to go to this place. I have recommended my friends to this place and will never do it again. Hope RAC understands customer service one day. —Maggi
---
2011-08-26 23:28:33 My comments have been deleted on several websites and I have been warned here by administrators, but I will not be silent. As a gesture of good will to Jeff Harrison of RAC I have decided to edit this review in exchange for the hope that he might correct this situation. Militant nudists run rampant in the men's locker room and it is very uncomfortable for myself and other members I have spoken to. While I was a member I made several attempts to speak to the staff about this, and I was always ignored or told that it was normal for this to go on in locker rooms. I have been to over 50 gyms in my life, and really this is not normal behavior in gyms as some staff members suggested to me. Why am I angry about this? Because I wasted hundreds of dollars on a gym membership that was unusable, and I never heard this addressed seriously by anyone at the club until now.
---
2011-08-28 10:06:07 Which location is this, does it still occur on a regular basis, and were they fully naked or wrapped in towels? Also, have you personally confirmed homosexuality? Details are important, and now we're going to have to dip into the Field Research Budget to verify these extraordinary assertions. —RyanTucker
---
2011-08-28 11:48:05 Brighton/Henrietta location. I'm not making any of this up, I wish I was. Go see for yourself but be warned you will be scarred for life by what you see.
---
2011-08-29 13:56:52 As managing partner of the RAC Henrietta, I would not typically address a rant on website. I do listen to every concern brought to my attention and if it within my ability to provide a solution to the concern , I do so. I also understand that people may have certain opinions of the club that I may not agree with.
When Joe (who is not a member) made his post it was concerning. The statements that were made were false and hateful. I suspect that he is competitor posing as someone (sockpuppet) to create negativity about the club in efforts to capture some type of business for himself. There are better ways but if you rather attack the club I would eliminate the hate towards the members.
If am wrong and Joe is not a competitor but a past member under a different name I would invite him or anyone with a concern to contact me. My staff and myself try very hard to make sure everyone feels welcomed and to provide a positive club experience. I would like to thank everyone who does provide praise or constructive criticism on this sight. We are listening and look forward to improving .
Yours in good health,
Jeff Harrison
Managing Partner
---
2011-08-29 14:13:25 Sorry J Harrison but I gave you many chances , tried many times to speak to staff at your gym, and no one listened. Too late now. I am in no way shape or form affiliated with any gym, just a member who had a very bad experiences whose concerns were not listened to by your staff. I am happy that you are listening now, at least maybe you can try to monitor the bizarre and uncomfortable scene in the men's locker room. I encourage you to ask some of your members about this and see what they say. Honestly I have already spoken to many of your current members and they agree with me, although have a better ability than myself to tune this out. As a gesture of good will for the first response I have ever received regarding my complaint, I will edit my review and leave more to the imagination of the reader.
---
2011-08-29 15:06:39 I have been a members since 2001 and have never been more satisfied with my choice in clubs. The class schedule offers everything from Zumba to Yoga. I find it hard to believe the posts below to be true! —OnlineReputations
---
2011-08-29 17:55:43 In closing and then I'll leave this alone, I hope you realize I am not some person who comes online to bash other businesses for no reason. I had many bad experiences at this club and I have every right to air my grievances in the manner which I have chosen. Look at my other reviews, they are almost all positive, and they are all completely honest about my experiences as an average customer.