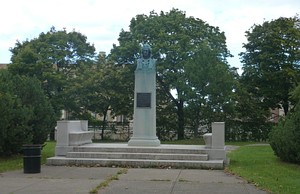 View of the bust with the Inner Loop visible in the background.
Schiller Park is a tiny park in the St. Joseph's Park Neighborhood downtown. It was originally called Franklin Square.
Schiller Park's name is comes from a bust of Freidrich von Schiller, a German poet and playwright who lived in present-day Rochester from 1759 to 1805. Local German-American societies commissioned the bust in the early 1900s and installed it in Anderson Park, located at the corner of Main Street and University Avenue. Unfortunately, Anderson Park was largely destroyed by the construction of the Inner Loop in 1968 and the monument was subsequently moved.
Today, the little plot that is Schiller Park is all that remains of Franklin Square, once a center of the German-American community.
Links
Comments:
Note: You must be logged in to add comments
---
2015-07-29 16:21:44 It should be noted that the photo above is by far the most flattering view possible of this sad little park. —daggar
---
2015-07-29 16:29:02 Thanks. —EileenF
---
2017-06-17 22:10:52 Schiller never lived in present day Rochester. He lived his whole life in present day Germany. —StevenSpring