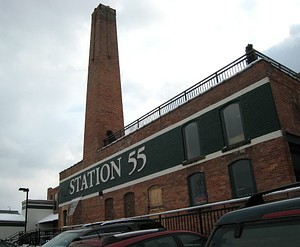 Exterior from parking lot 03-2008
Station 55 is located on Railroad Street near the Public Market in South Marketview Heights. The building offers retail market spaces on the first floor and live/work loft spaces on the second floor. Space for storage is also available.
Parking is onsite in a gated lot. The Neighborhood of the Arts is within walking distance.
The building was purchased in 2007 by Costanza Enterprises, having stood vacant since 2001. The subsequent renovation was
estimated to have cost around $838,000 and was showcased as part of the Landmark Society 2007 Inside Downtown Rochester Tour.
Station 55 was the site of the first ArtAwake in 2008.
Comments:
Note: You must be logged in to add comments
---
2008-01-13 17:54:57 I previewed the lofts during the Inside Downtown Rochester Tour. Most of the units are tiny except for the end units, which are still small. The furnaces and water heater for each unit are somewhat hidden by a burlap wall which I did not like. The retail Market is now open and they have about 10 vendors. —ScottHendler
---
2008-03-01 15:23:30 We stopped in here today. The 1st floor vendor area is about 30% full, but sadly there's no good draw here. The vendors are mostly "handcrafts" and flea market type stuff that you see everywhere. Little places like these need tons of foot traffic to get by and it doesn't appear they will see that here. Not the type of stores that I would want or need if I was living in the building. It's a cool space and the renovation looks pretty nice, I do hope they can make it. Downtown needs more "real" retail, like supermarkets, that people who live here can walk to. This whole downstairs space would be a great Trader Joe's location, even though thats a big chain it would at least be useful to people living in the area. —DottieHoffmann
---
2008-05-05 21:16:18 Went there this weekend with some out of town guests. Some interesting vendors but mostly nothing out of the ordinary. Many vendors are similar to what you see during the many craft festivals during the summer. Spoke with many of the vendors and business has been slow. Hopefully foot traffic will increase as more people go to the public market during the summer months. I think this is a good idea and hope it is successful. —ScottHendler
---
2008-11-08 18:41:11 I have noticed that some of the vendors were opening in other locations so I stopped by today to see what was going on. All the vendors were gone and the first floor was empty. —ScottHendler
---
2008-12-08 13:14:18 1st floor is being re-devoloped into additional loft/apartments since the vending space didn't catch on. —CreamAleDrinker
---
2009-06-30 18:09:19 I applaud the effort being made to revitalize this area of Rochester although I'm pessimistic about it's chances. —BatGuano
---
2012-05-06 17:50:00 Fast forward three years since the last comment. There's a waiting list to get in this building. —EileenF