The small street entrance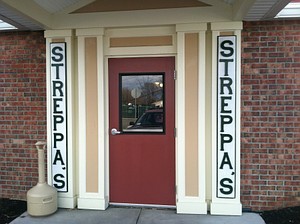 The main entrance off street
Former Location
30 E Main St, Webster NY, 14580
Streppa's Bistro was a hard-to-notice Italian restaurant on Main Street in the Village of Webster. There was also a back entrance with parking, which they considered the main entrance.
Closed June 20, 2015.
Comments:
Note: You must be logged in to add comments
---
2009-10-24 21:43:56 Do not go to this restaurant expecting fine dining. The house salad dressing was really just oil. I ordered the Chicken Florentine which was literally swimming in an inch of sauce. I'm surprised it did not come in a bowl. Who doesn't love soggy chicken? The decor is great if you're 70 and want to get your seafood and steak in a dinner setting. The only redeeming thing about the place is the servers but that doesn't make up for the rest. You'll find finer dining at Dennys. —RachelRobbins
---
2009-10-26 15:39:45 I went here on Friday night, definitely the kind of restaurant that my Grandfather would eat at. They had a wide set of house wines. I ordered the Linguine in Calm Sauce, it was very clammy but the sauce was very thin so it doesn't stick to the noodles. They have a pretty nice artichoke dip but need to work on the presentation since they gave us cracker style bread sticks in those little packages. I don't think I'll go again unless I hear that this is fixed.
The salad I had was nice though, something like ranch with pepper corns. —DamianKumor

---
2015-11-20 13:15:02 Streppas closed June 20th. —abraxas